Rainbow Friends Animal Sanctuary
Help Empty the Rainbow Friends Animal Sanctuary
Adopt a Furry Souvenir to take with you on your Flight to the Mainland
Scroll down to see photos, videos and information about our dogs and cats.
Come and meet our available animals in person if you are interested in adopting or fostering !
You may visit the Sanctuary at 17-382 13 Mile Rd, Kurtistown, HI 96760
Our Adoption Specialist Camille can be reached at (808) 896-4951
Mary Rose can be reached on site by text at (808) 494-8700
Our main office number for messages (808) 982-5110
Our email is : mail@rainbowfriends.org
We offer an off-island adoption program for our animals that fit the fly out criteria. You can adopt a Rainbow Friends Animal from wherever you live and we'll ship the animal to you. Please contact us by email for information on logistics and personal service for your selection.

Off Island Adoption Charges include the following;
Adoption Fee

Airfare
Airline Approved Kennel/Crate
Rabies Vaccine
Travel Health Certificate
Kennel Service for overnight flights or connecting flights may apply
Our Dogs at Rainbow Friends Animal Sanctuary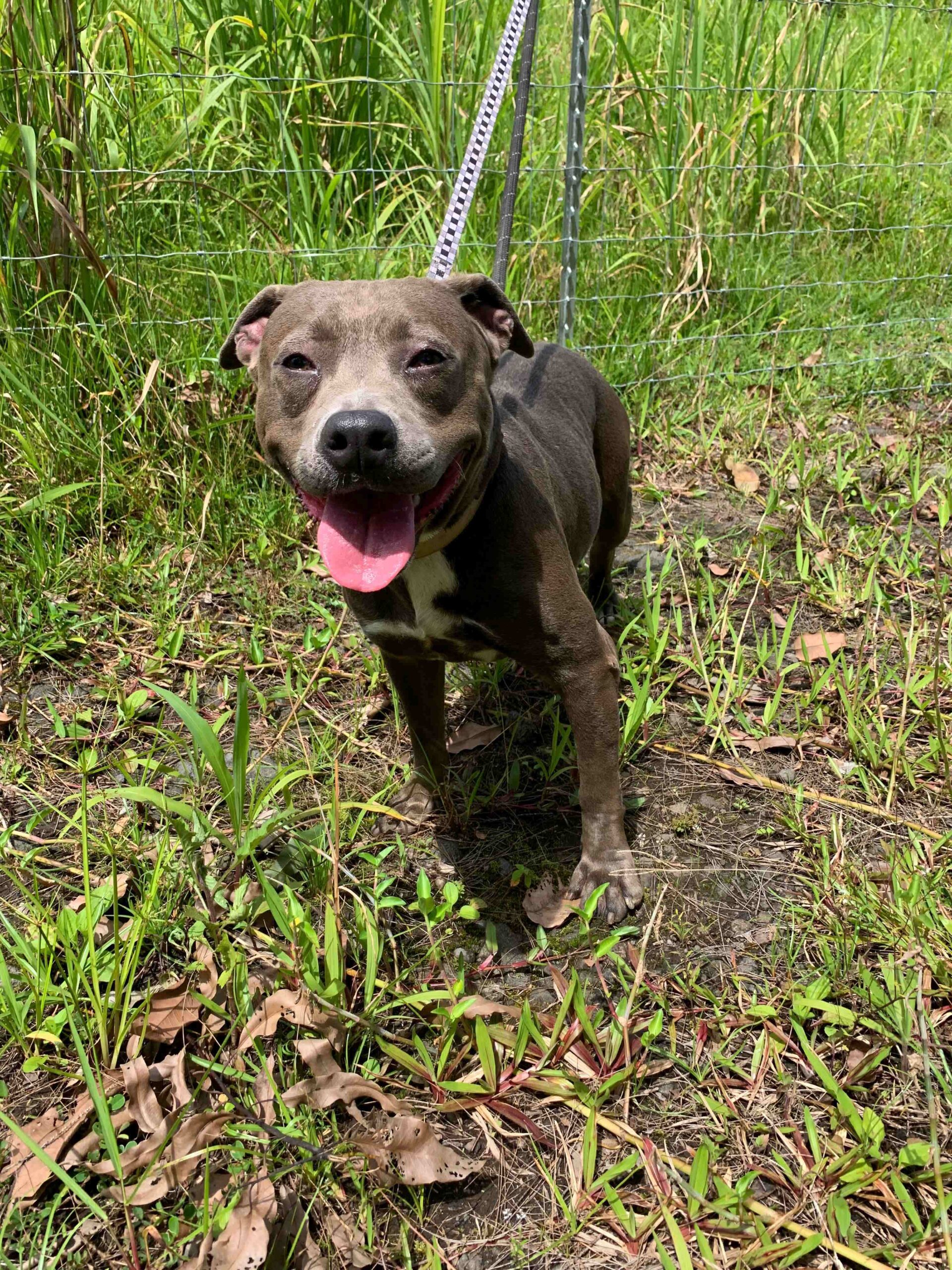 Astrid is a sweet and loving pittie who loves pets and playing with stuffie toys. She's about 3.5 years old and loves all people. Astrid also loves to go for walks. She would best as an only pet. He tail is always wagging as she's happy to see everyone!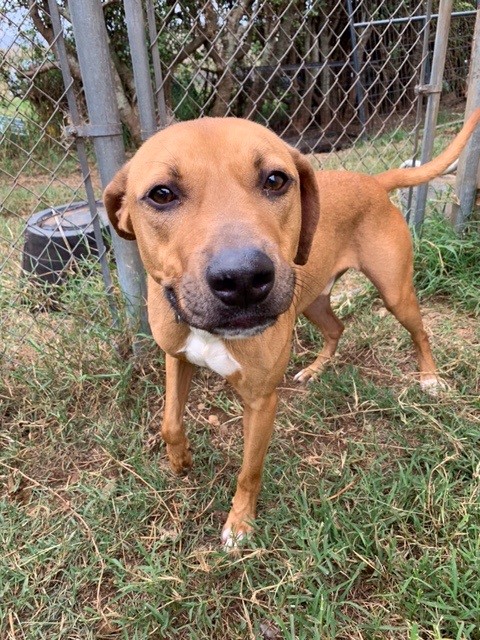 Jimmy is a supermodel, he loves to bask in the sun and daydream, go for walks and get pets. He is neutered, light brown, would be best as an only dog, not good with small dogs, cats or any smaller animals. He is a hound mix, playful, appreciative, such a sweet boy! Jimmy is neutered.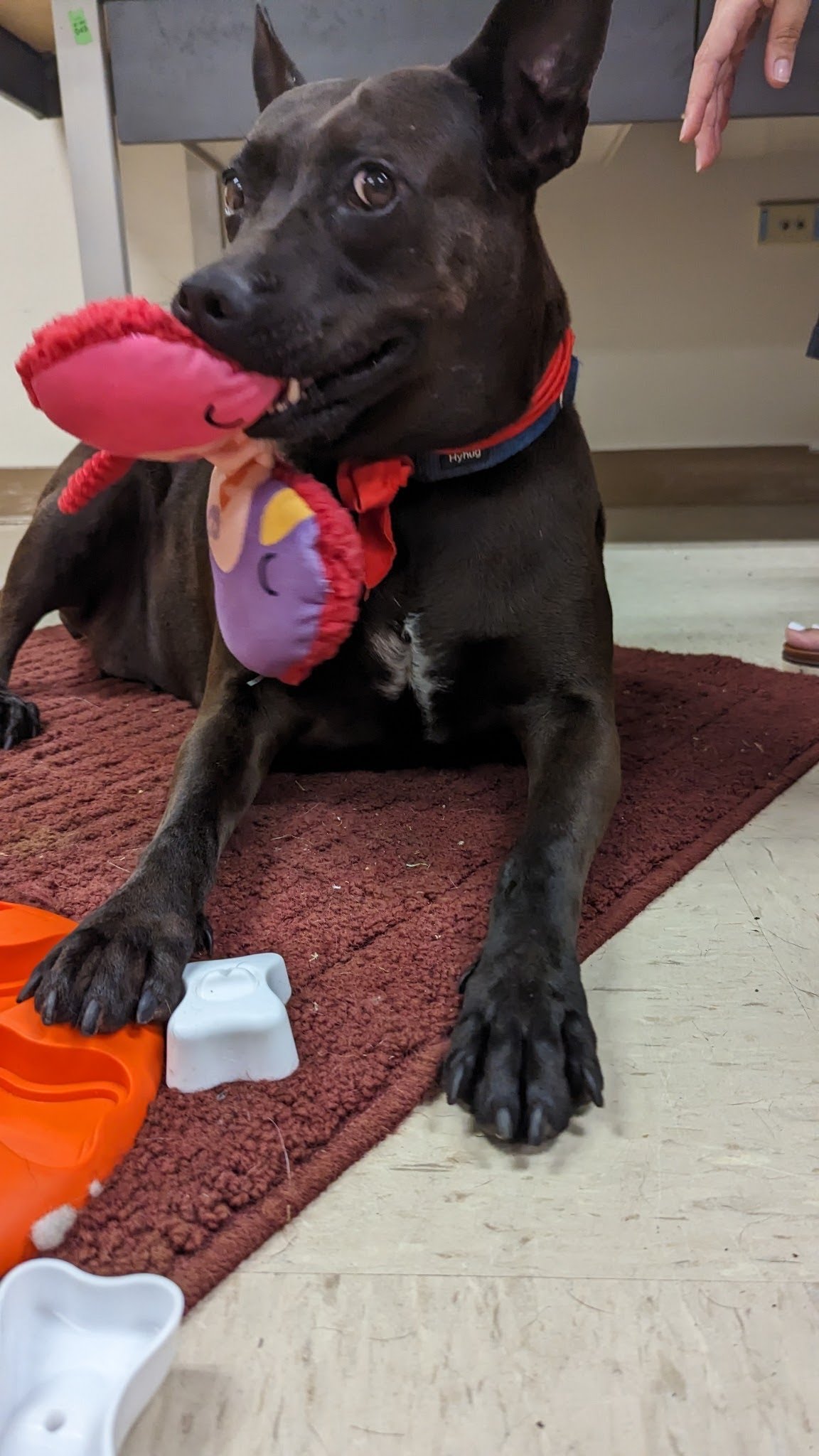 This sweet girl will give you infinite smiles with her wiggle skills. This chunky gal is a people magnet, who will be your best friend from the second you meet her. Gunner spent an unknown time at animal control before coming to the sanctuary about a year and a half ago. She would do best in a home as the only pet, or with a certain Gunner approved male dog. She is beautiful, not easy with some other dogs, spayed, stunning, on video movie clip. Loves all people, always excited to see you.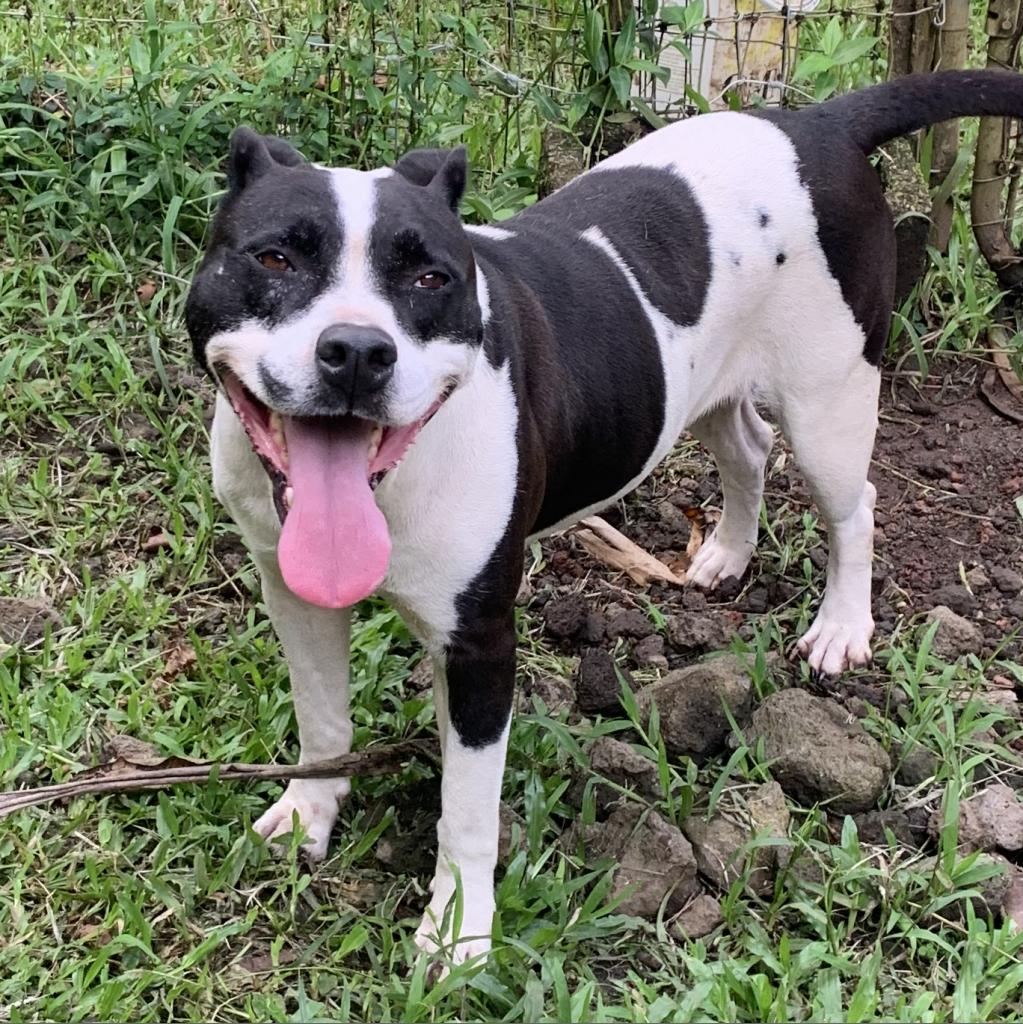 This spayed girl is a gorgeous Pittie mix, with lots of love to give to the right home. She is totally people friendly, but struggles with other animals. She is not good with cats and chickens. Angel loves to fetch and knows sit on command. She's a sucker for belly rubs. Angel is really hoping her person is out there looking for her.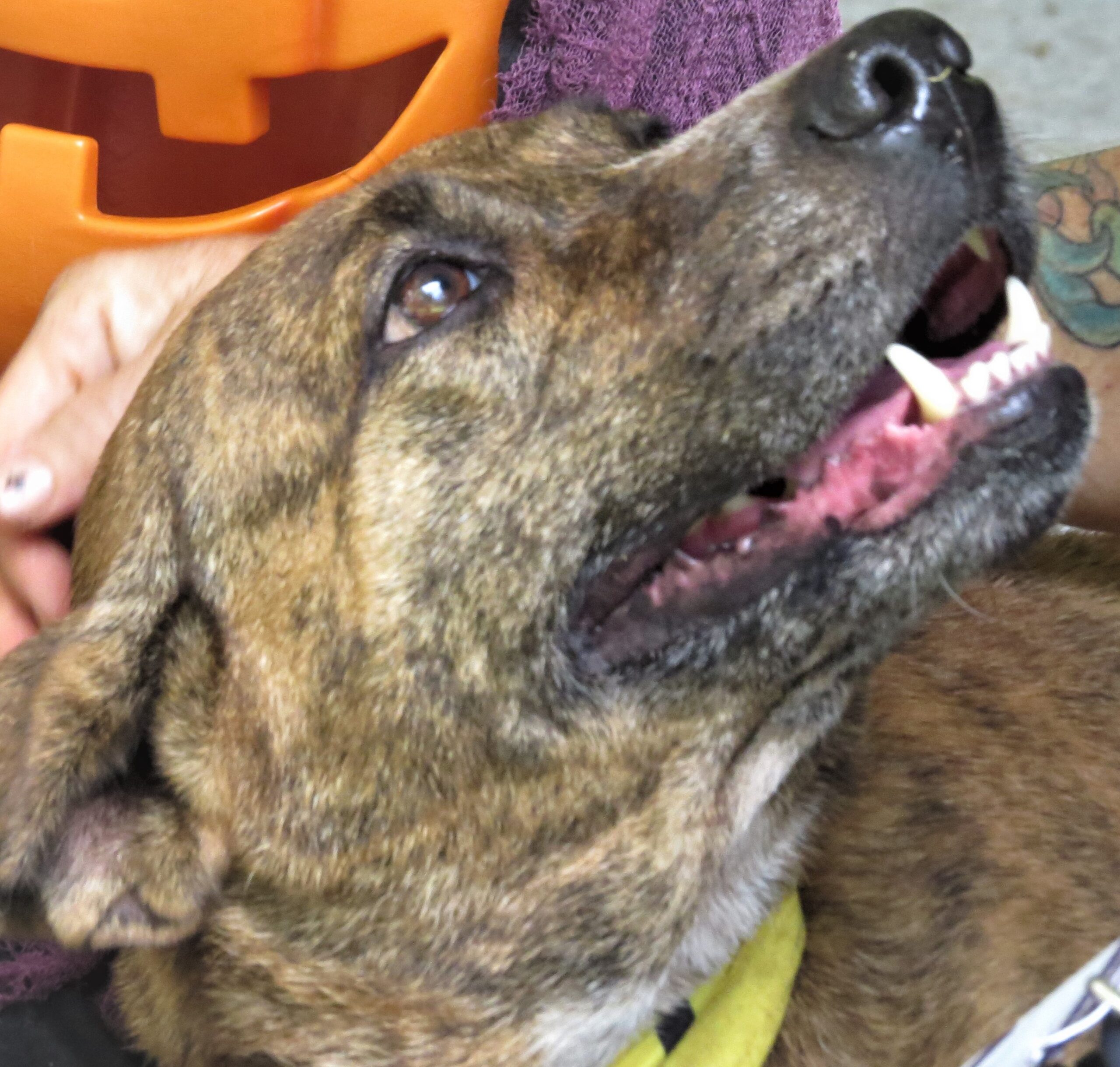 Shyla is related to Dorothy. She is approximately 5 years old. She is from the Catahoula pack. Shula is not good around farm animals. She gets along with other dogs well as she lives with her family of four others at the Sanctuary. She loves human companionship, but has no leash training yet. Our volunteers are working with her. Shyla is responding well.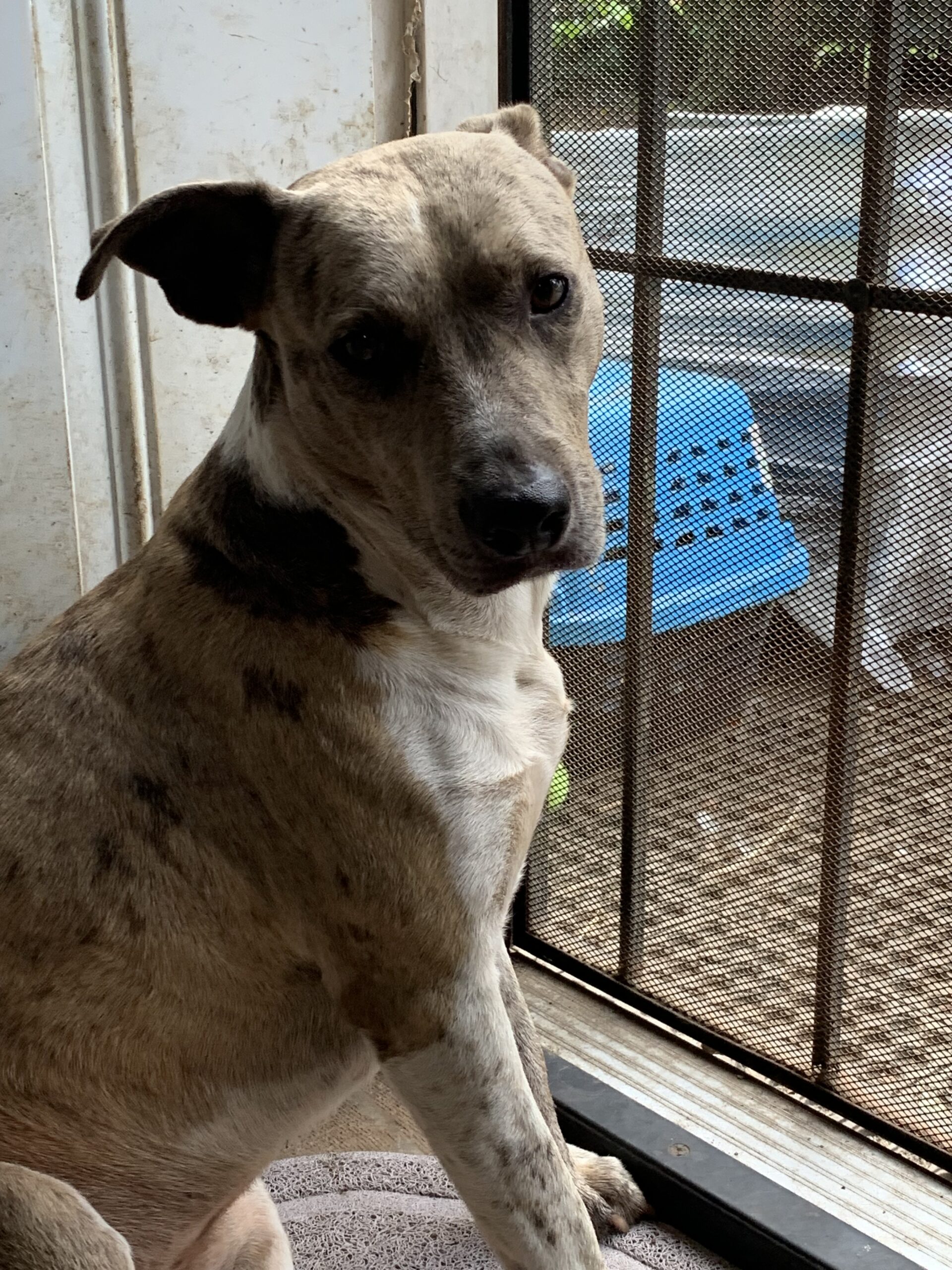 Dorothy came to the Sanctuary with her mother and siblings. She is a beautiful, young Catahoula. Dorothy has the run of the Sanctuary as our resident canine trustee. She gets along with everyone and helps us determine if other dogs are friendly. Dorothy is not leash trained and will need a gentle human to train her into a more domestic partner. She is a love.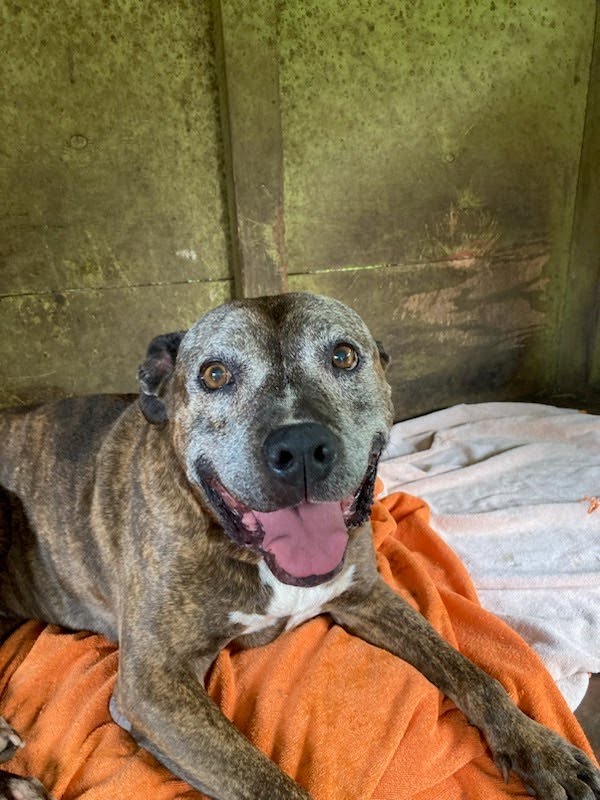 Pua has eyes that stare right into your soul saying please take me home! Knows sit and shake. Pua says you're never too old for toys. Would do best in a home as the only animal or with a certain Pua-approved boy dog. Has gone through two surgeries for blood tumors and has taken both like a champ. Nothing brings her down.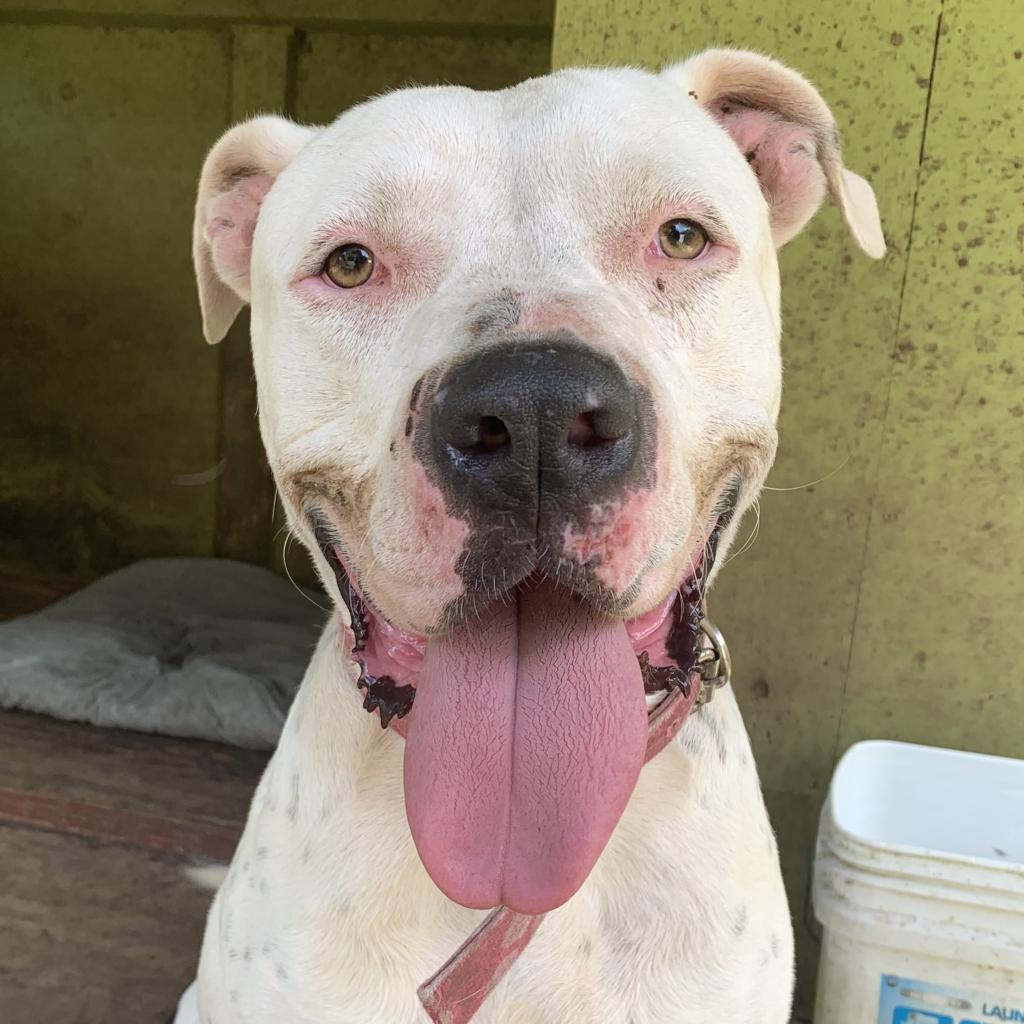 Huntah is a Terrier, American Pit Bull/Bulldog neutered male. He has a heart as big as he is. Loving and playful, behaved with children. A bit fearful of men at first, probably due to past trauma. Huntah loves meeting dogs at his fence and showing them his zoomie skills. He might do best as only animal in a home.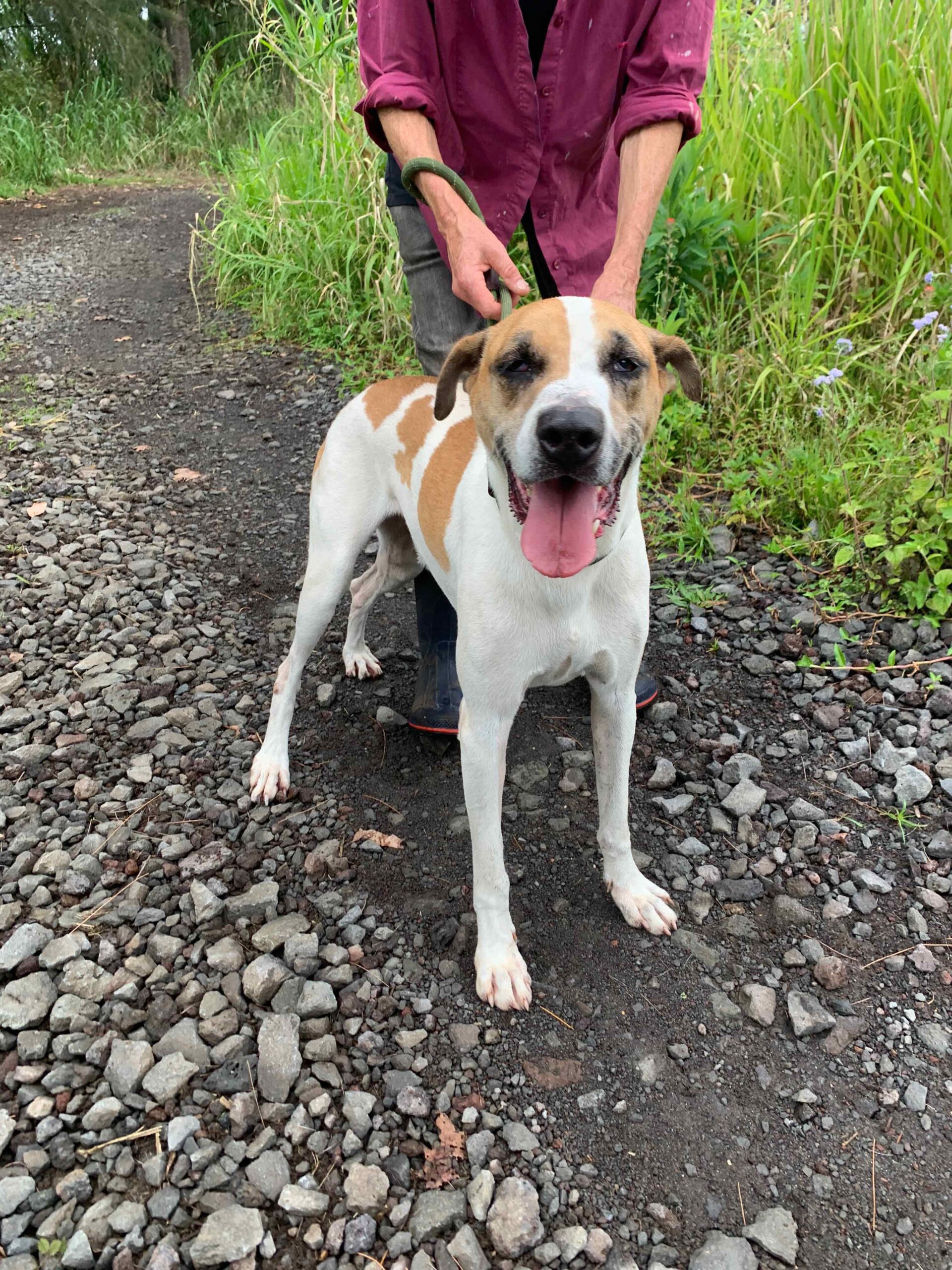 Sophie (white and brown) and Cody(dark brown) are best friends, and they have so much love to give. Sophie is a jumper, so she can sporadically jump because she gets so excited.
Sophie likes swimming. She is around 7 years old.
They are very sweet and would do well with people that either have a lot of land or like to run as they appreciate getting their energy out. They would be good with a family. For the first few months they will need attention and both could use some leash training. Volunteers have referred to them as "irresistible"!
We are not sure how they are with cats.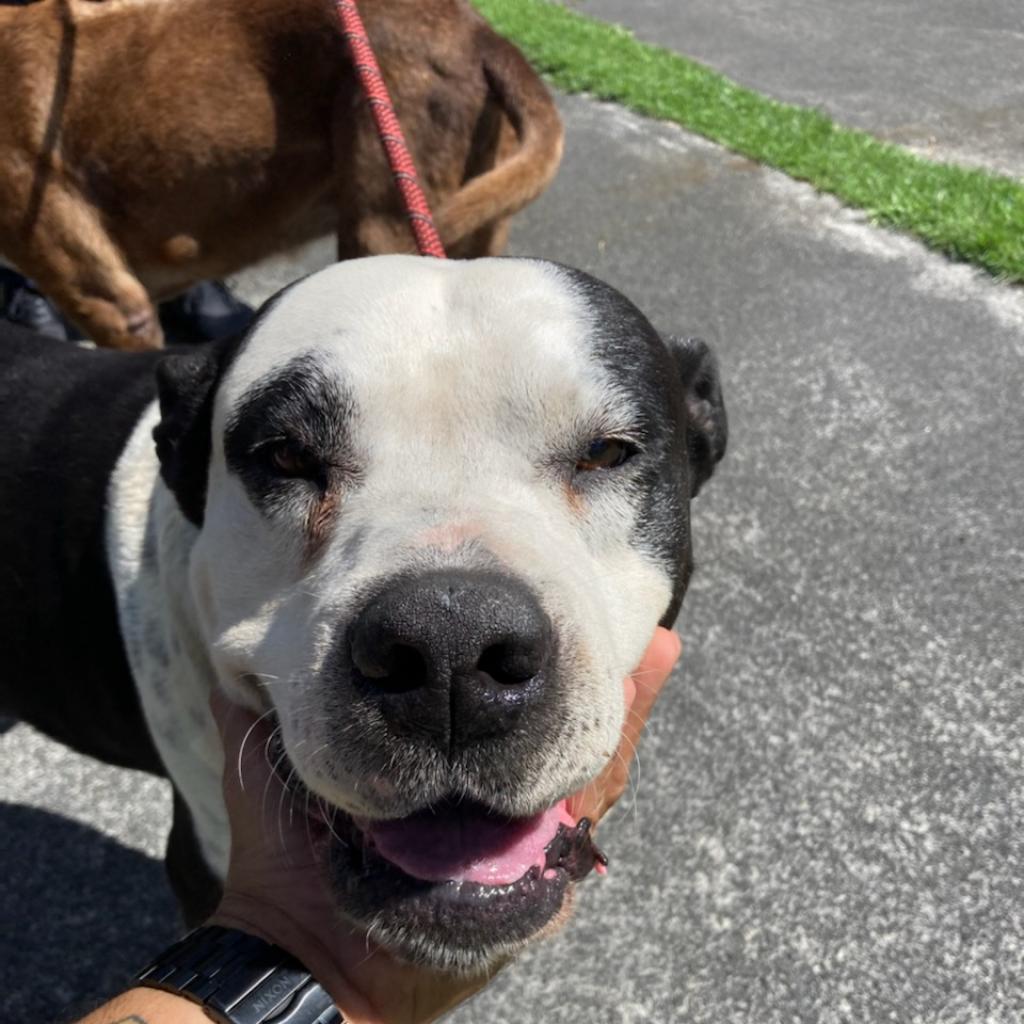 Oreo is an 11 year old large male neutered Mixed Breed. He is a big hunk of love, who would be perfect for someone looking for a couch potato. He'll comfort you when you are sad and put a smile on your face with his goofy grin. He came back to us from a home where he was much loved but one day showed too much interest in the landlady's peacocks. His adopter was very sad and hopes he will soon find a forever home without peacocks. He is not good with cats, chickens or small dogs.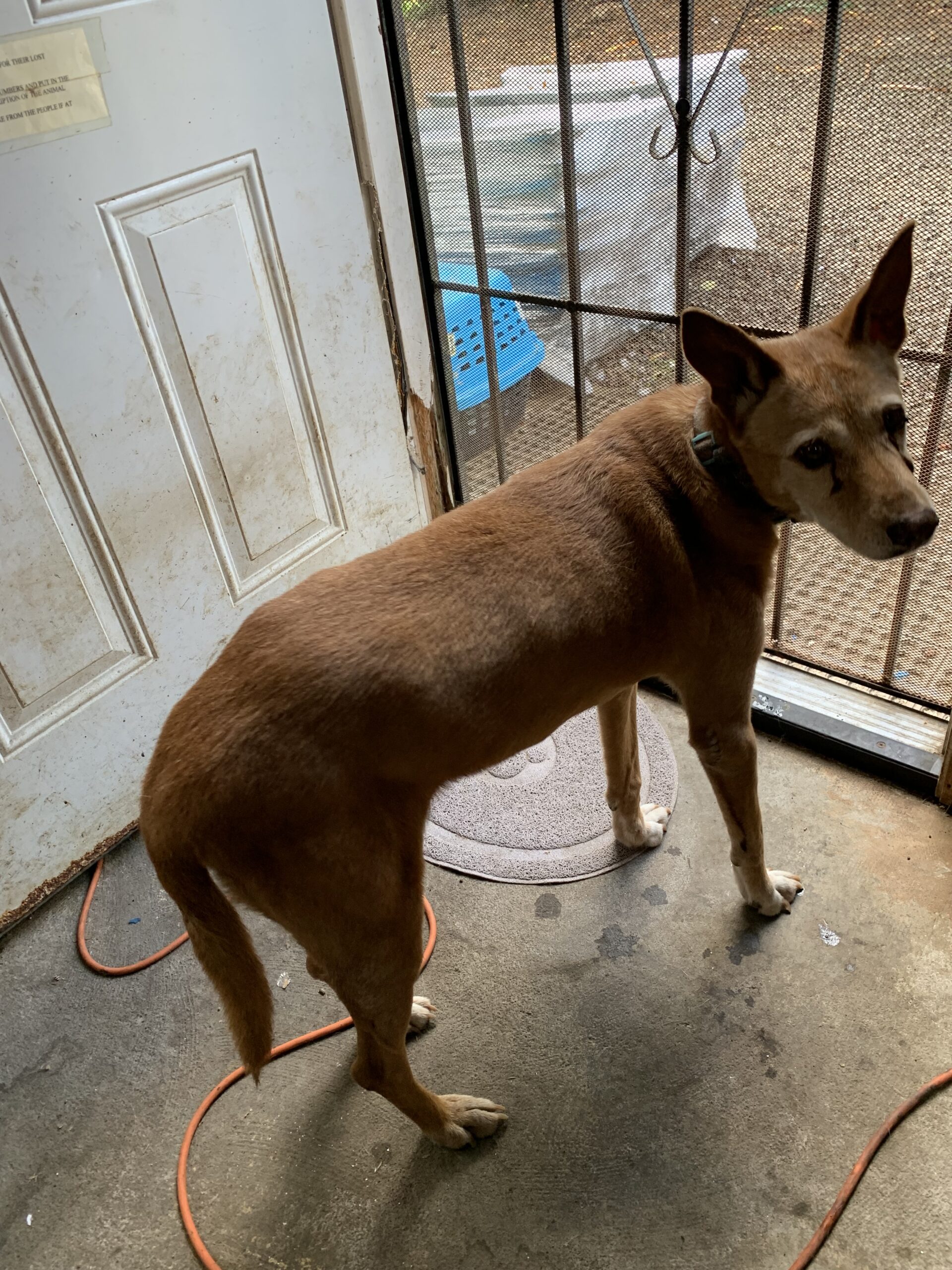 Brandi is our resident office trustee. This sweet senior boy is about 12 years old. He spends his days looking out the screen door when he is not being walked around the property saying hello to all his friends.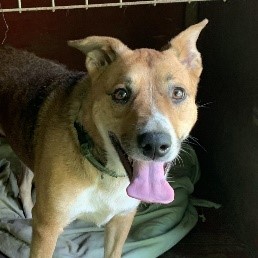 Marie is a 4 year old, spayed female Cattle Dog/Mixed Breed. She would do best as the only animal in a home. Marie is reactive to other animals and small children. She loves adult humans.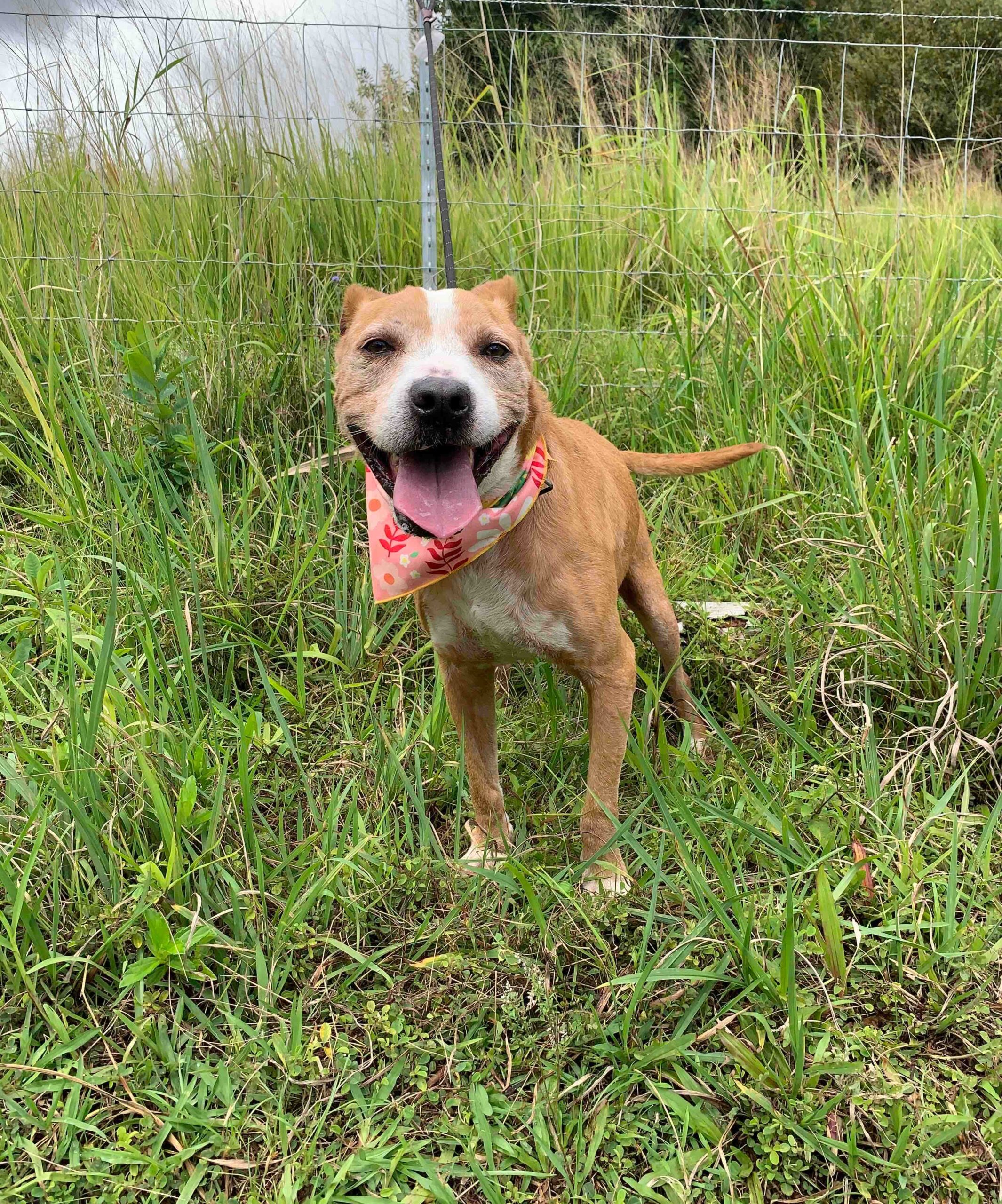 Clint loves all people, but is questionable with other dogs. He would make a great running or hiking partner. He is a silly boy who loves to roll in the grass and also chew grass. he is about 7 and LOVES chin scratches and walks.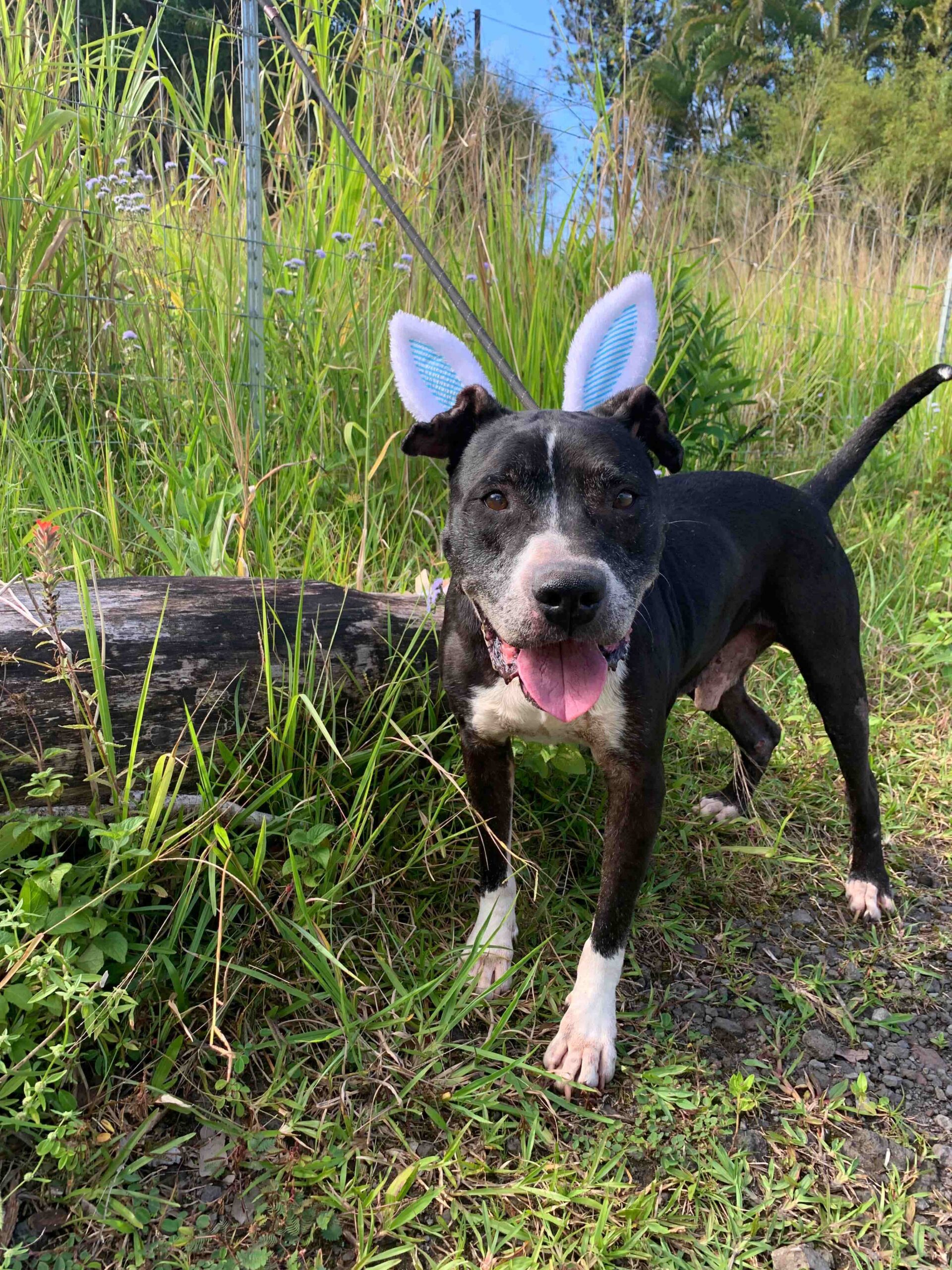 5 year old Paco would be best as the only animal in a home. He is great on leash and loves humans.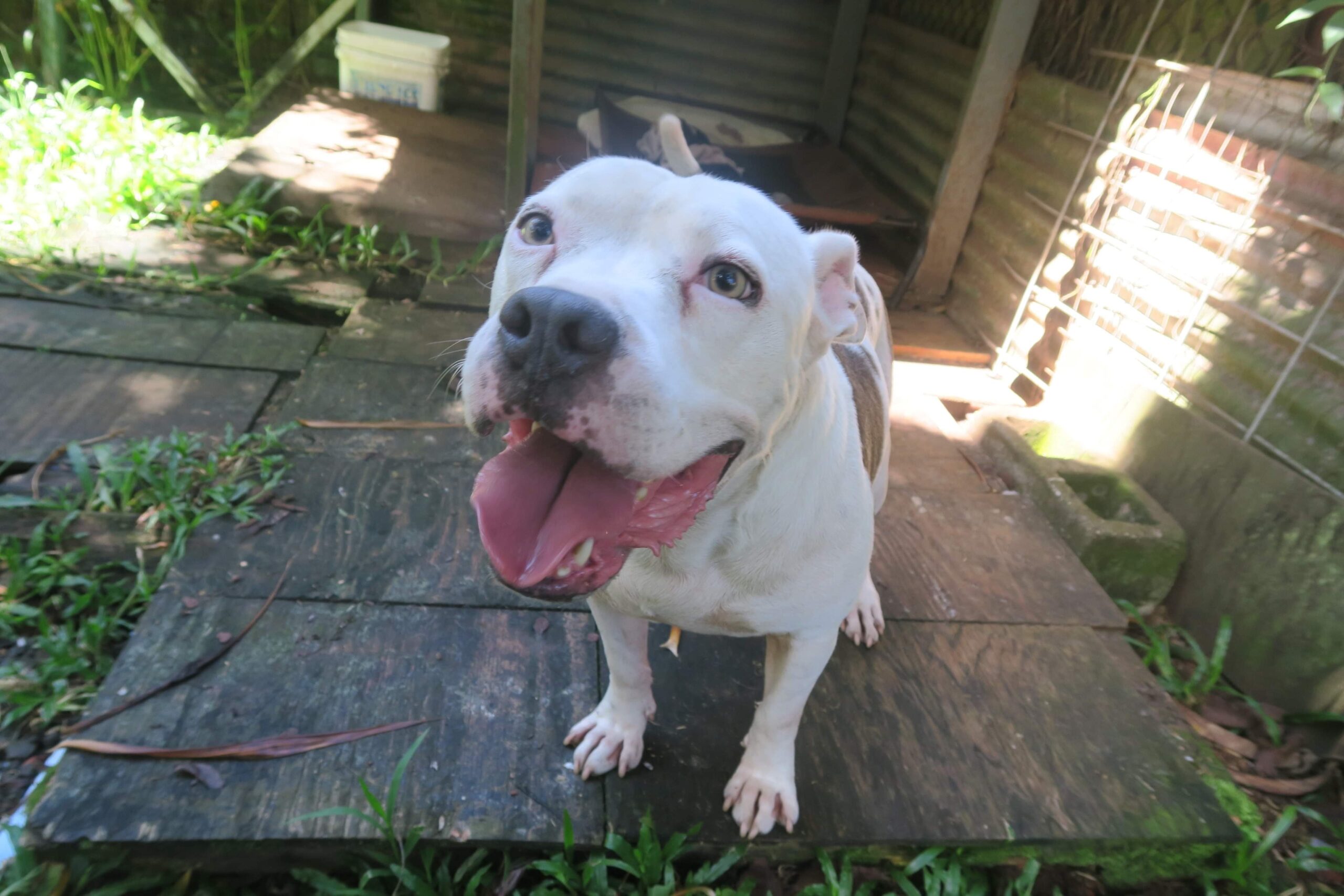 Kameha is a large male Pittie, who lives alone in kennel. He is not good with some other dogs, so would be best as the only dog in a family home. Cats and chickens visit him daily and he is fine with them.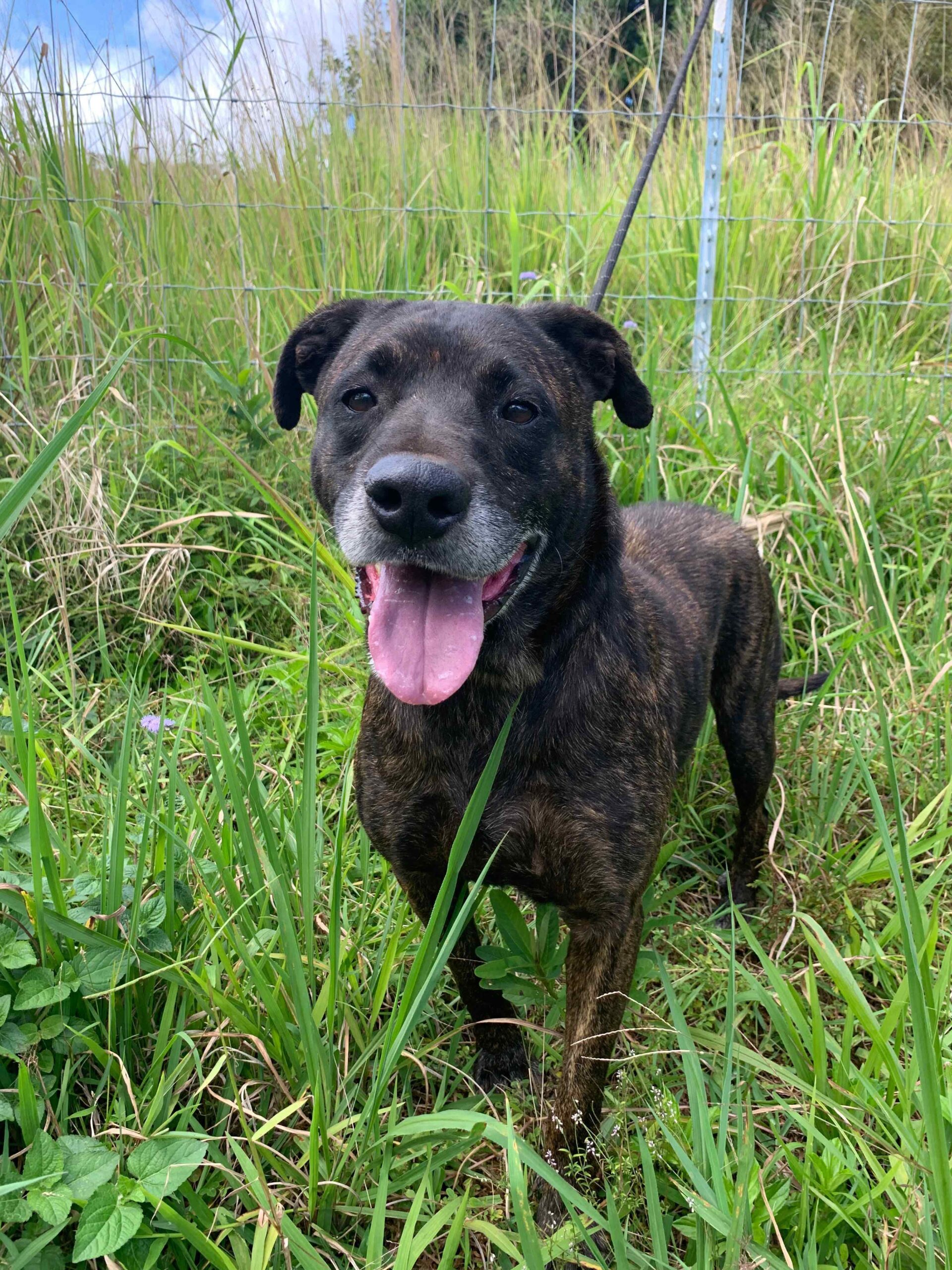 Our brindle, grey muzzle Bruno is a great dog. He is calm and doesn't jump or bark or pull on the leash during walks. He is good with other animals and currently shares a living space with his pal Lovey. He can be shy and skittish at first, but warms up with treats. He is a gentle, easy boy that needs a family to love him. He is likely over 5 years old.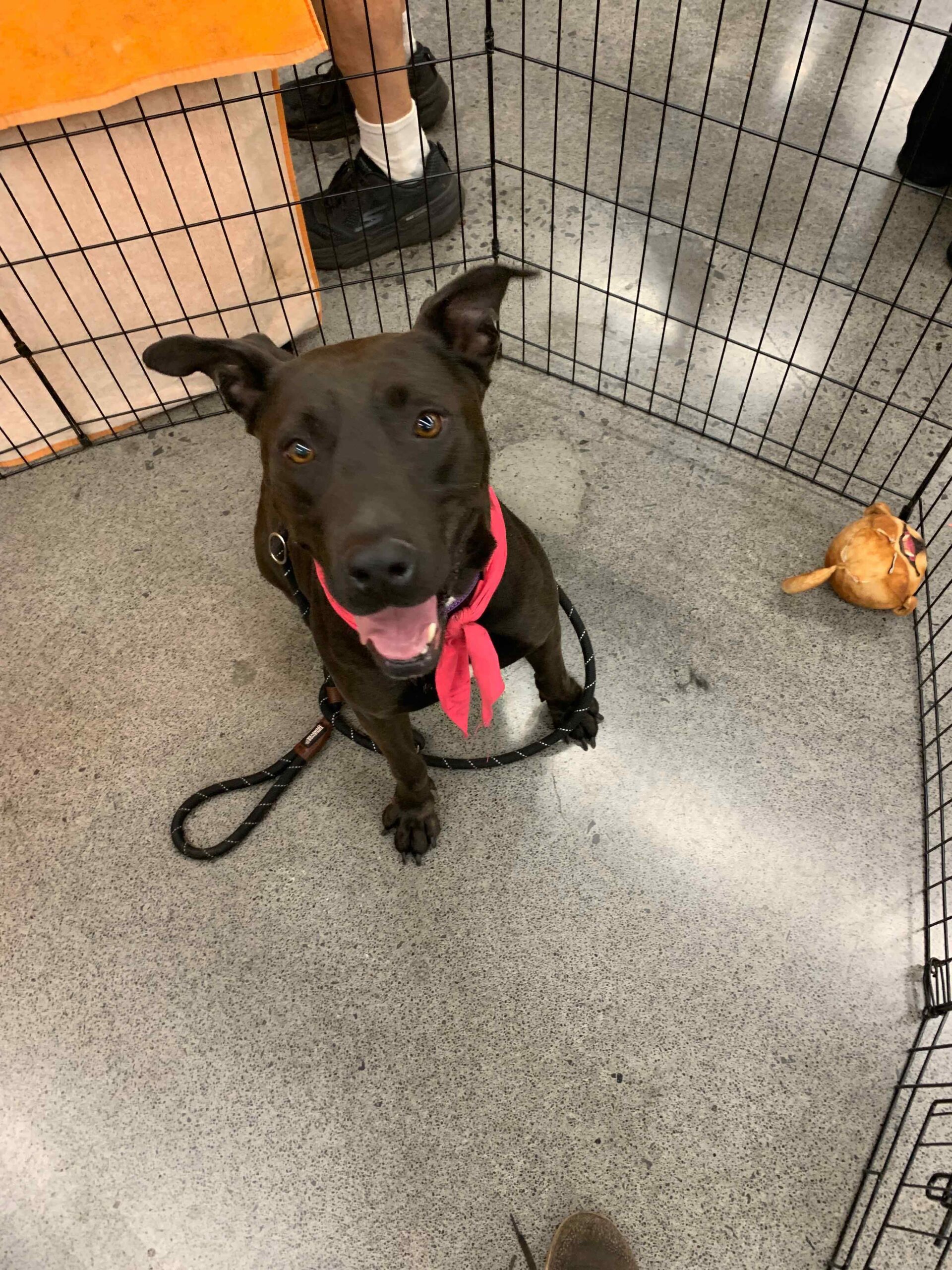 We are seeking a unique foster or adopter for our very special girl Brownie. She is a sweetheart who loves people. She has a neurological condition that causes her to spin in circles at times, and while not completely deaf (she responds to clapping), she is hard of hearing. The great news is, as suggested by her vet, this smarty pants is learning doggy sign language! We are working on sit, stay and lay down. She's pretty good at "sit". We are looking for a special person willing to continue her training, go on walks, and spin in circles together. Brownie can be good with other dogs, depending on the dog. She walks pretty well on a leash and ignores chickens and cats.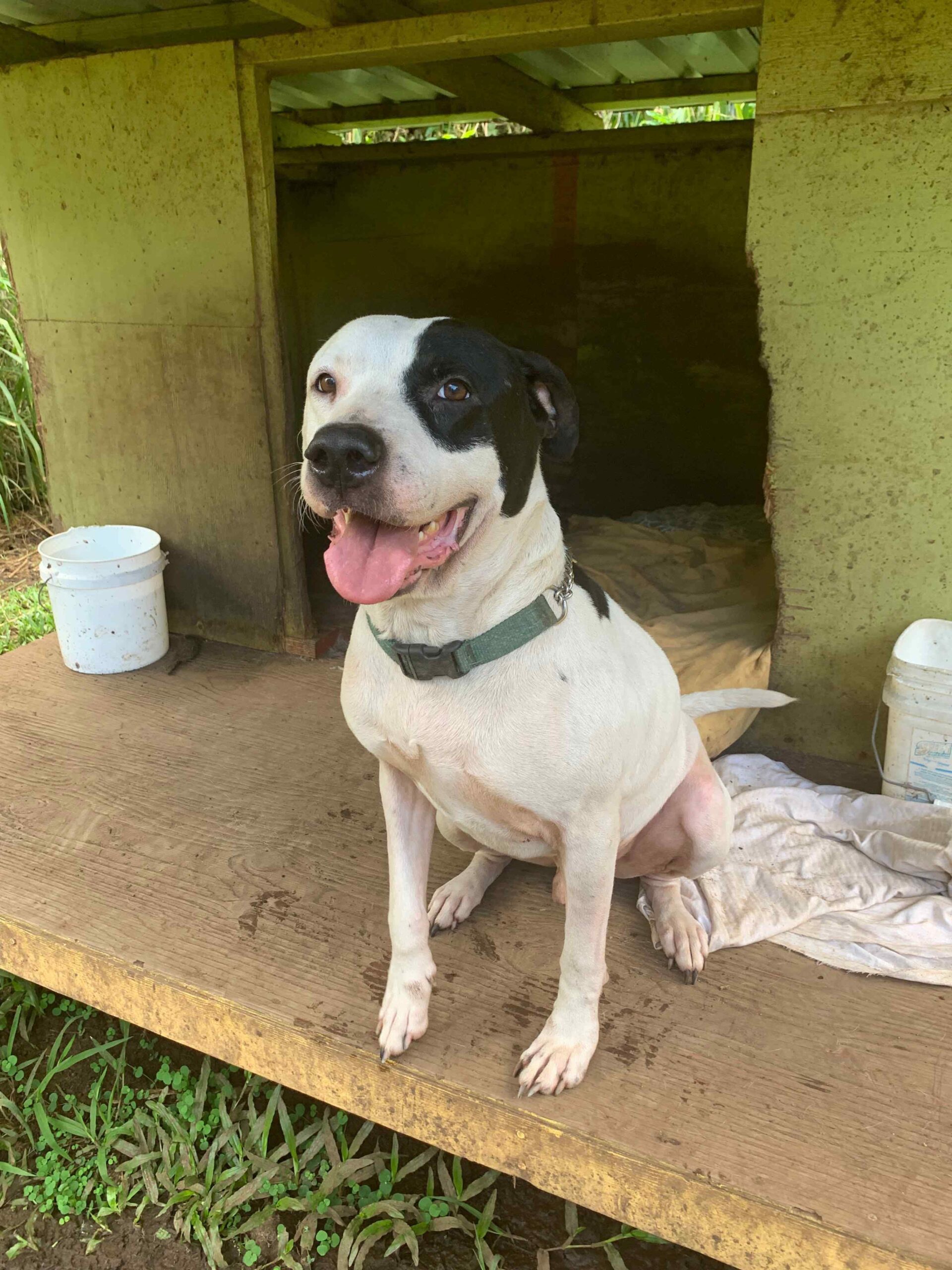 Brody is a happy three to five year old, beautiful male Pittie, who is always smiling and excited to see you. Brody loves to give hugs and kisses. He can be good with other dogs, depending on the dog. His new girlfriend Dorothy visits him daily. He is good with cats! He also loves walks, teats, and belly rubs. He knows sit and shake.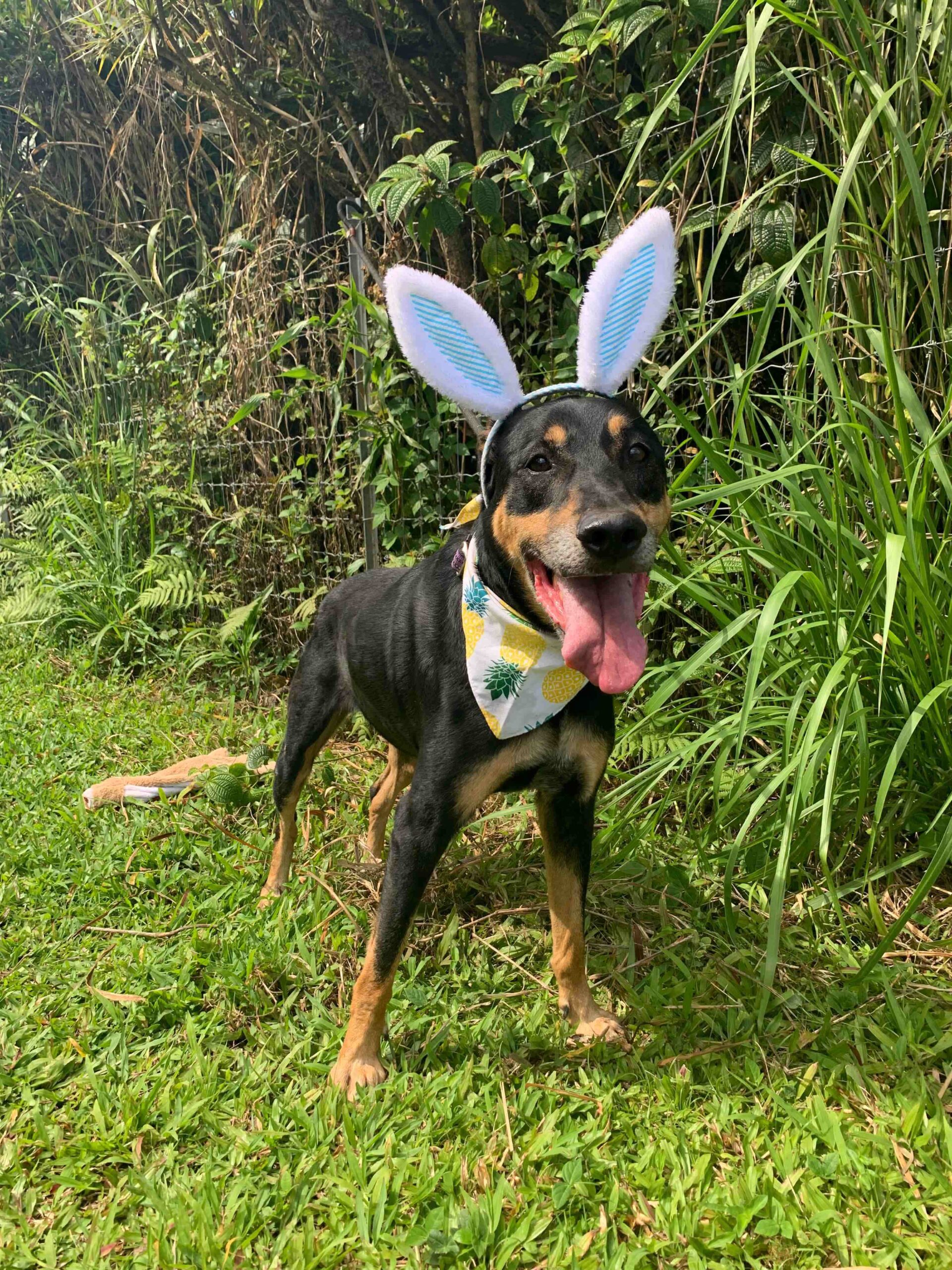 We think this dignified dog would also look good in a top hat! Prince is over five years old, about medium energy and walks pretty well on a leash. He likes car rides and sniffing on walks. He gets very excited and immediately starts whining in excitement when he sees the leash. The bonus is that he ignores chickens!
Our Cats at Rainbow Friends Animal Sanctuary
A Note about FIV/FeLV Positive Cats : There is a lot of controversy regarding these diseases; FIV (feline immunodeficiency virus) or FeLV (feline leukemia virus) – these viruses break down the immune system. They infect about 2 – 3% of the cat population and are mainly spread by fighting, biting, mating, mutual grooming, litter boxes and sharing food/water bowls. There is a vaccination against these diseases for otherwise uninfected felines. They DO NOT infect humans or other animals, only cats. Cats should live indoors with other cats only if they, too, have the virus. Regular veterinary examinations and health care will keep them healthy. Reducing stress in their environment and providing nutritious food and fresh water will also help. Please consult your veterinarian for more information about these diseases.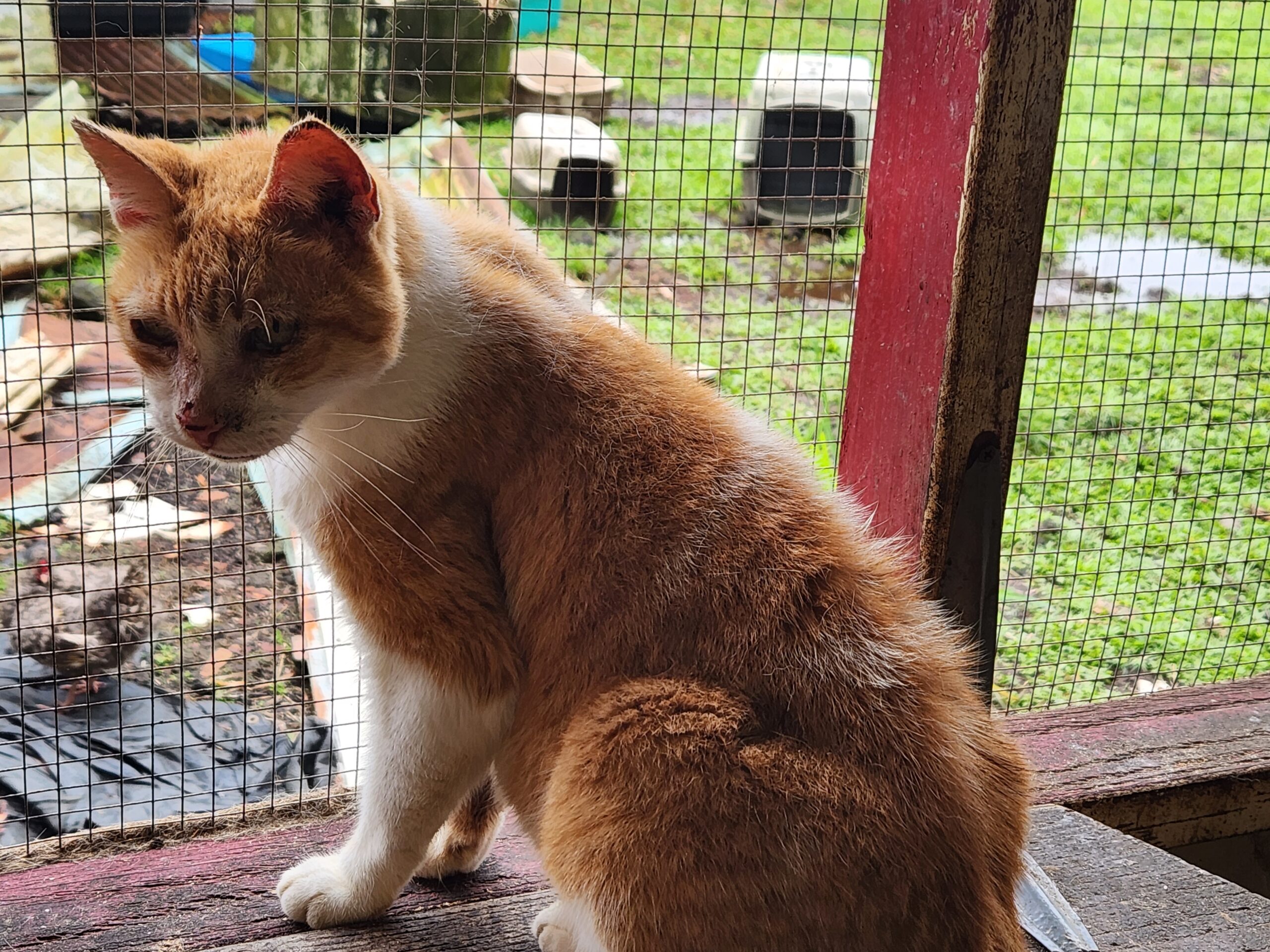 Hi I'm Cheddar. I don't sit still for pictures so I am kind of funny looking I know! I am a warm and loving gentleman waiting all these years for a person to call my own to love and take care of me. I enjoy a good rub and a lap to sit on while you pet me. I will purr for you as you do this. Will you even consider fostering me while I wait to have a few teeth removed. I'll get cleaned up in the meantime and wait for your visit to the Wing at Rainbow Friends.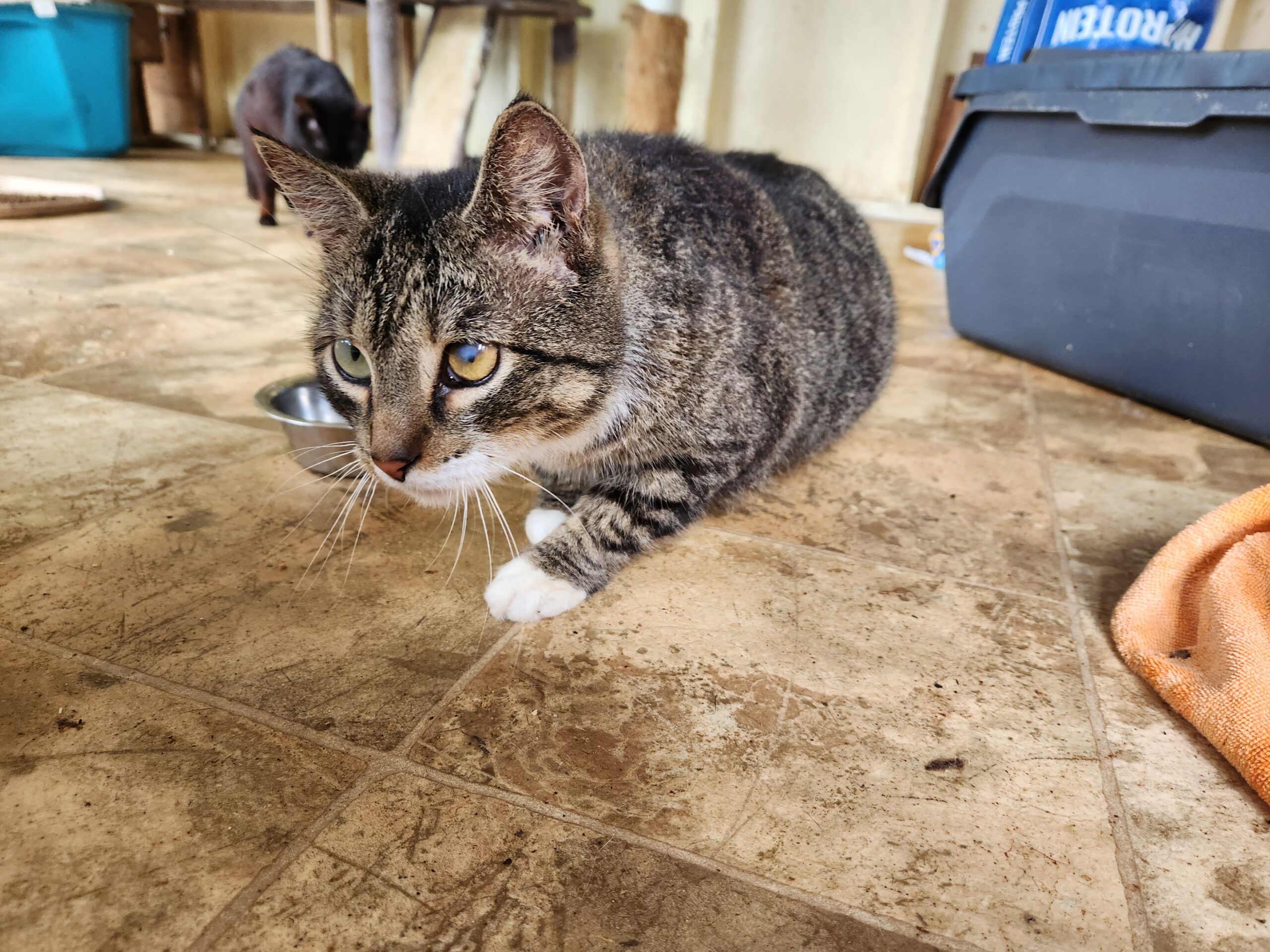 Dave is a very friendly cat. He loves to sit on your lap. He scoots around on this stomach most of the time. He doesn't stand up, we are not certain why he has this condition although it seems to be getting better and he is able to use his litterbox.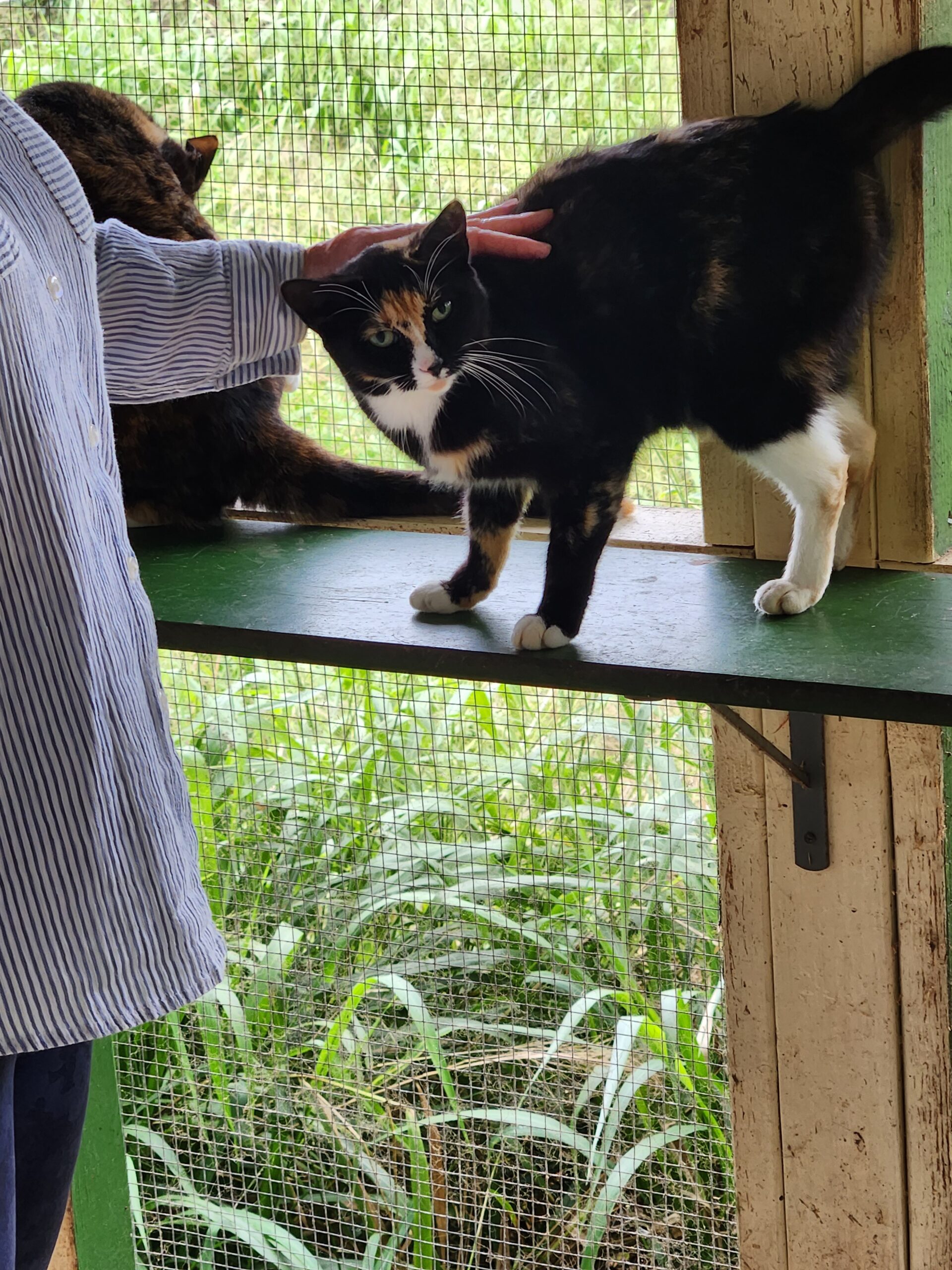 Lila is a beautiful calico, a little shy at first but if you go slow and start to pet her, she will not let you leave.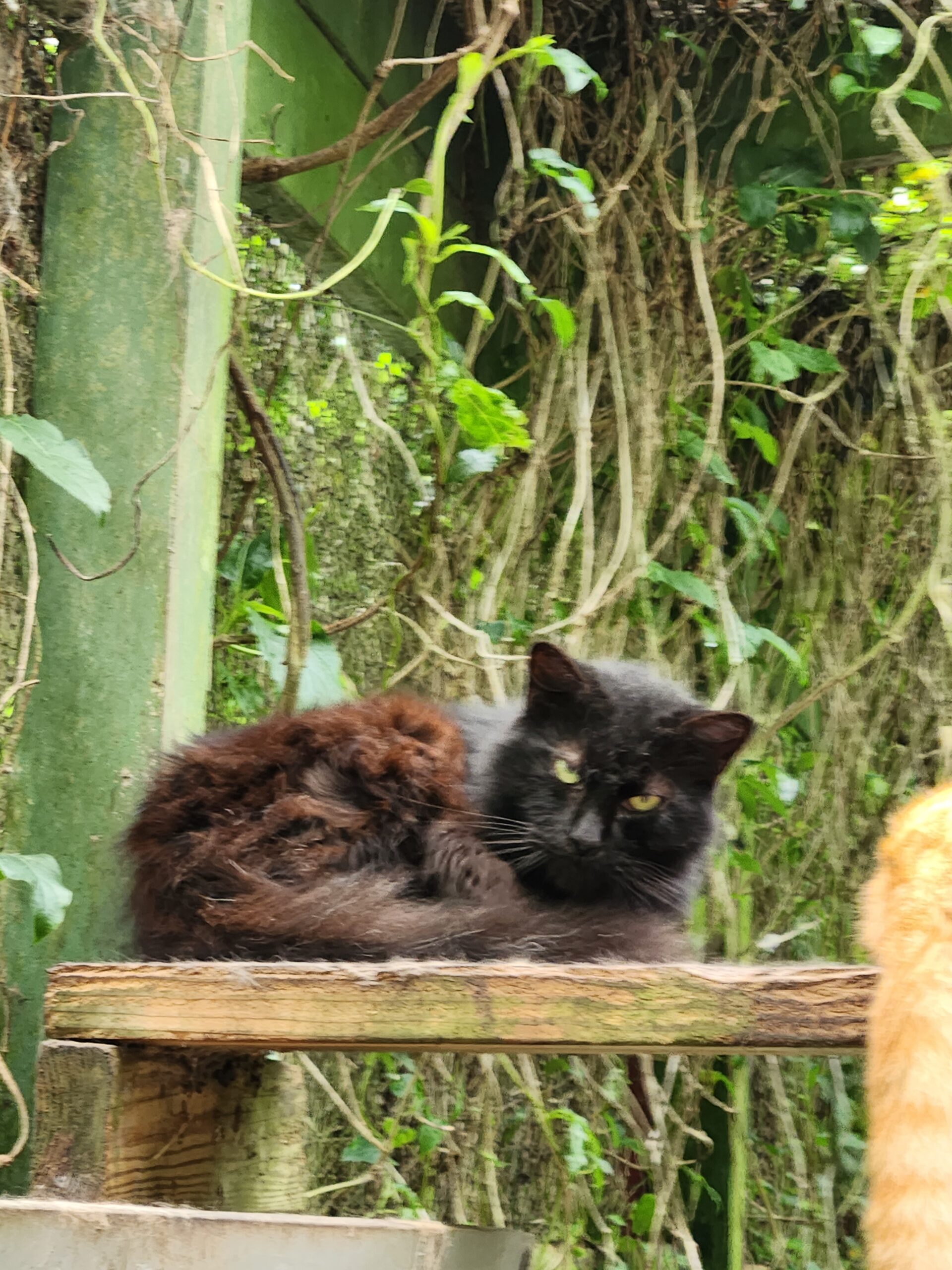 Gardener lives in the Garden wing and is beginning to become friendly with volunteers that clean and feed.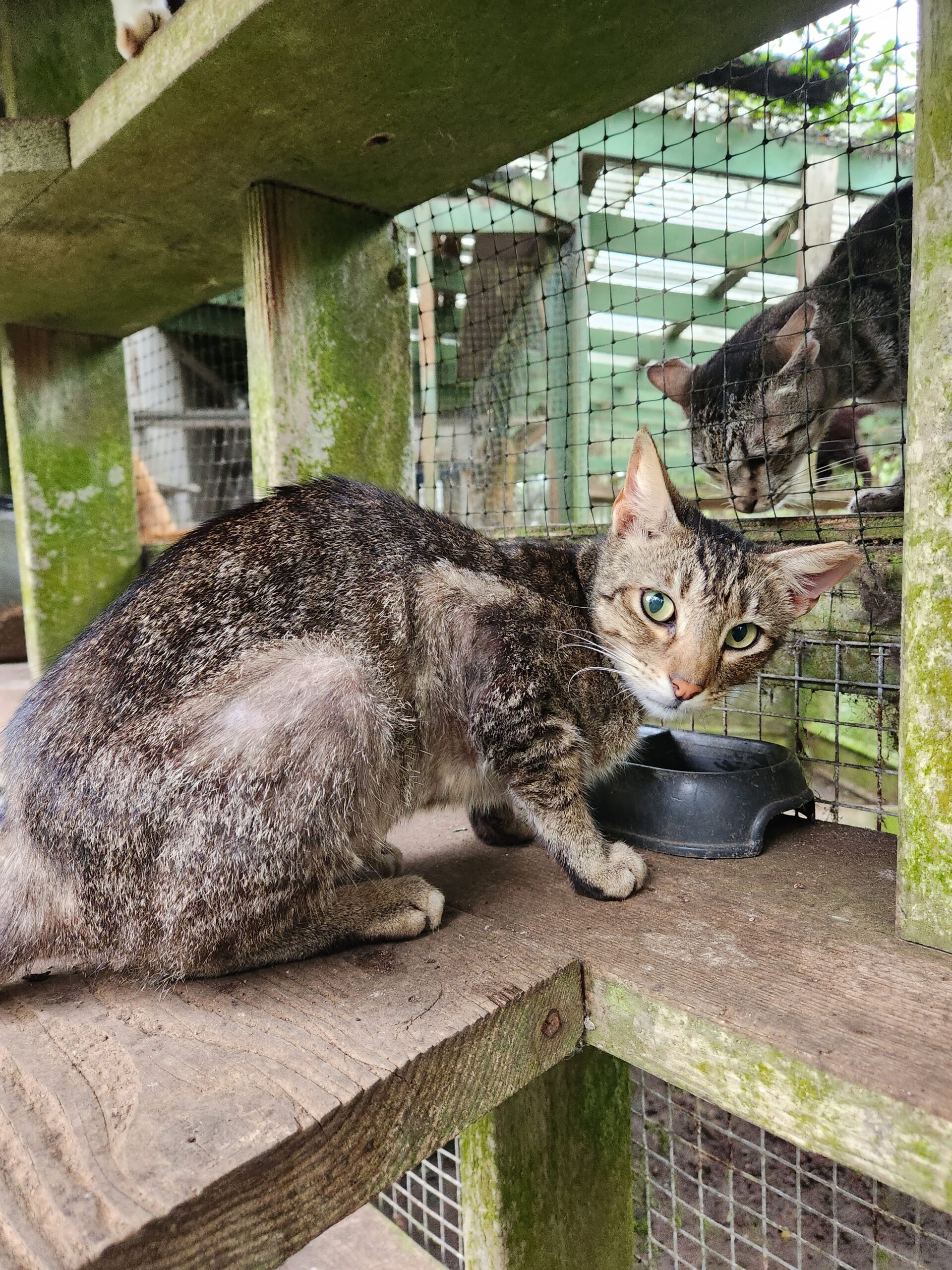 Max is a friendly, lovable cat. He is shy at adoption events. He is an escapee from the Garden wing who lives with a gang of other escapees in the roof. He'd be a good inside or outside cat.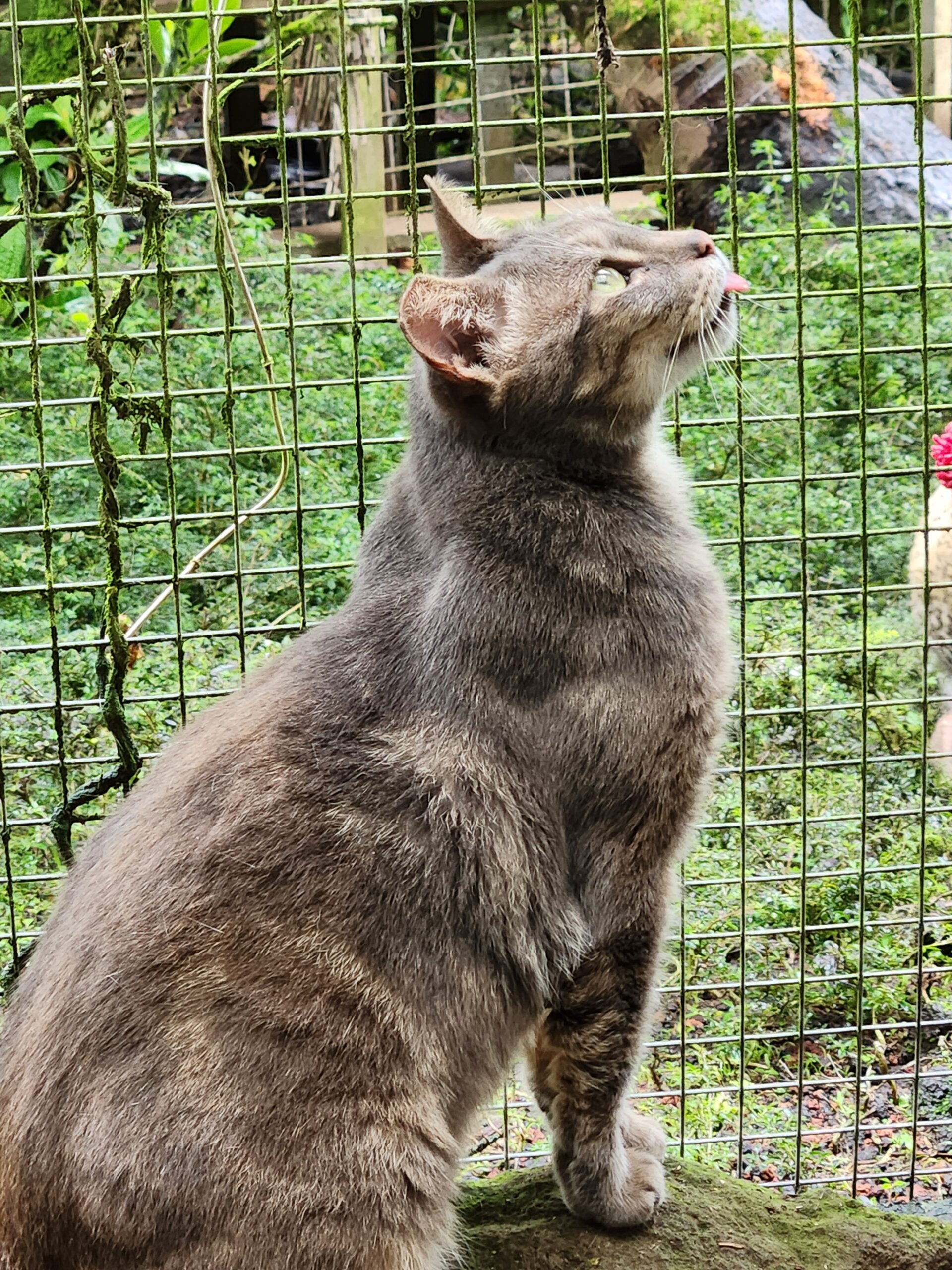 Sondra is a very nice 5 to 6 year old cat who needs teeth extractions.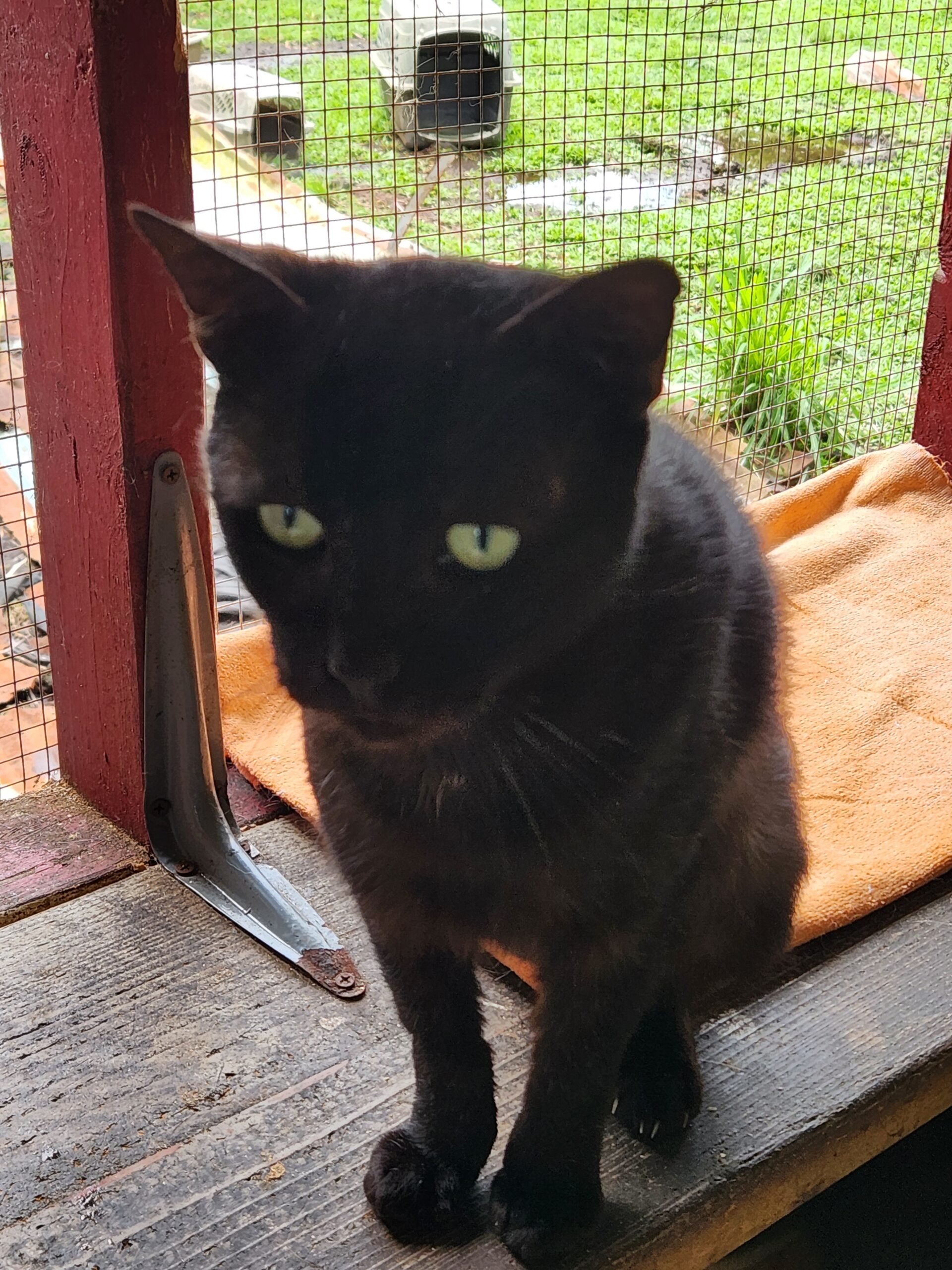 Midnight is a 3 legged very friendly boy. He needs a furever home. If you scratch him on the side of his missing leg, he will love you forever.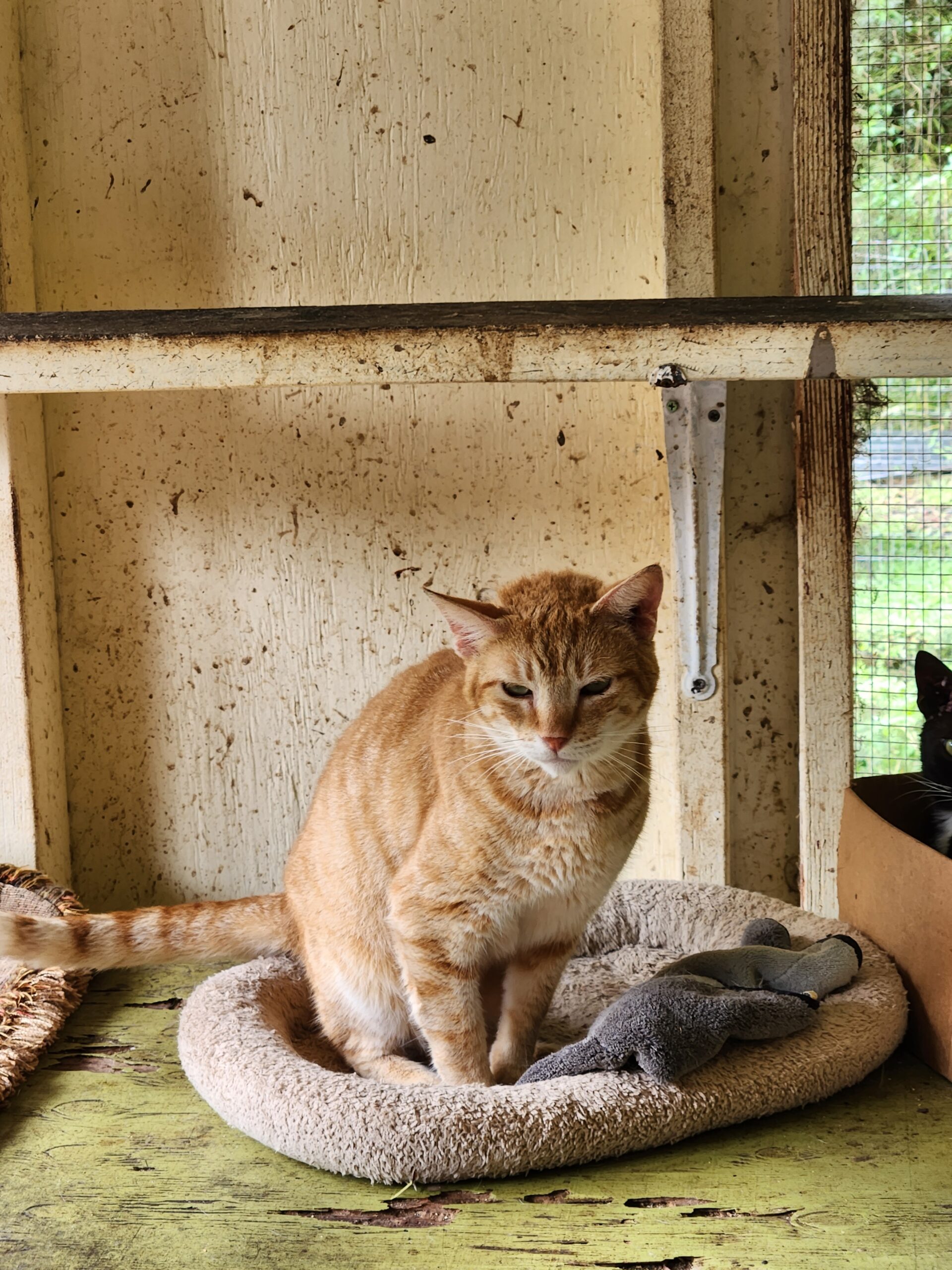 OJ is our Old Timer that lives for lovin.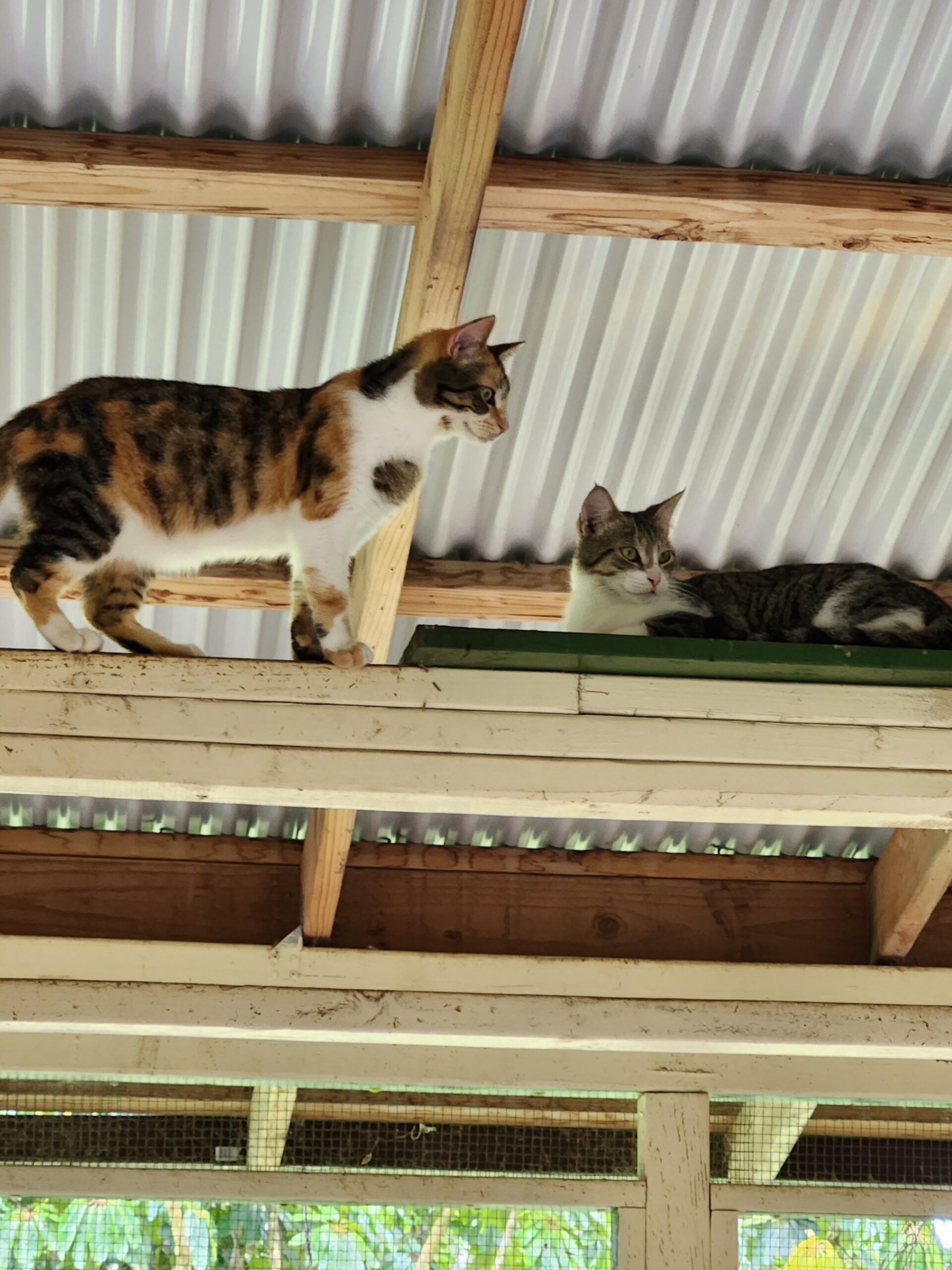 Friendly Calico and Tabby that like to live in the rafters. They come down for pets and treats at will.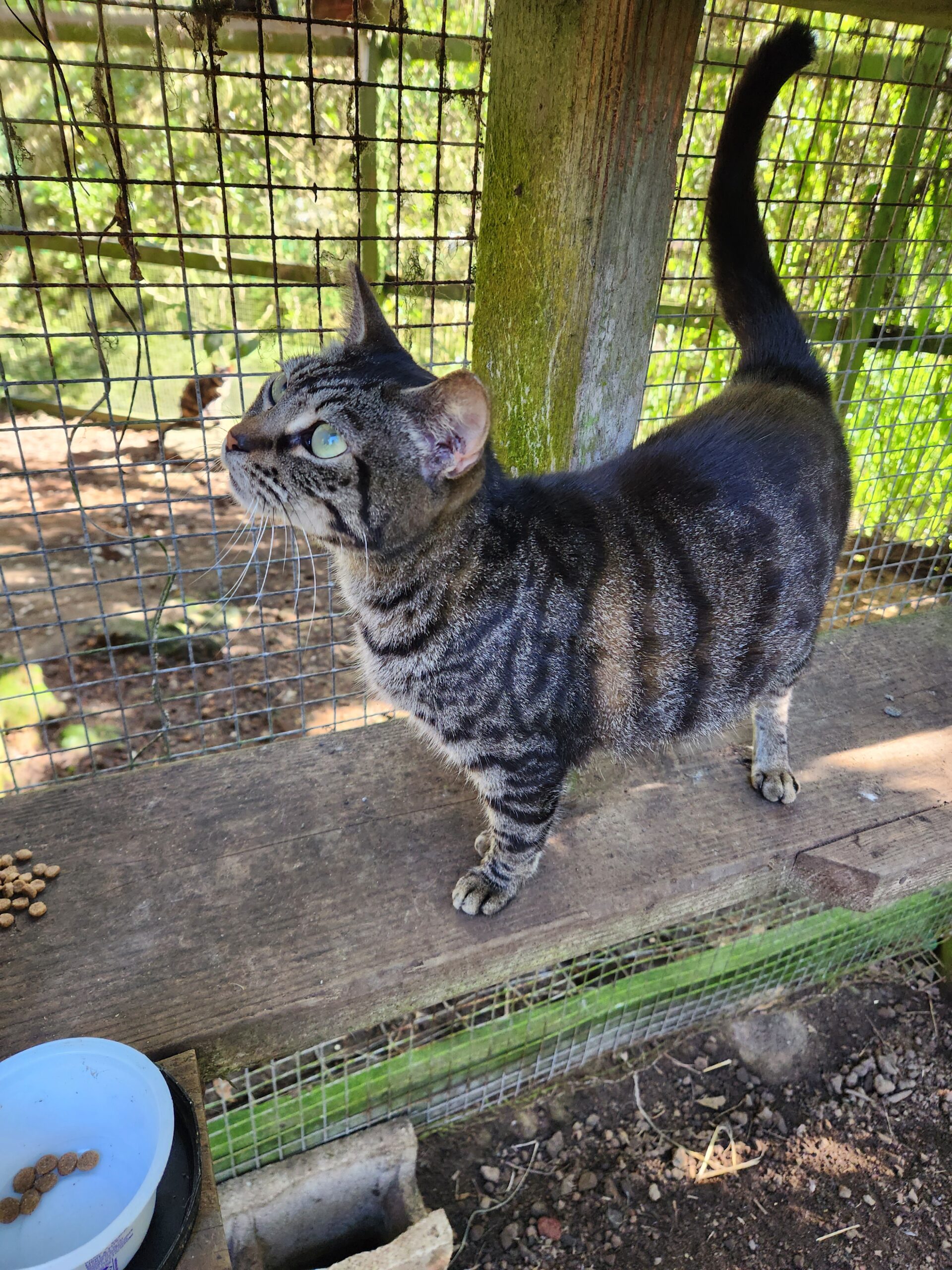 Tandy is our resident roaming cat who cruises around the Sanctuary and gets along with everyone.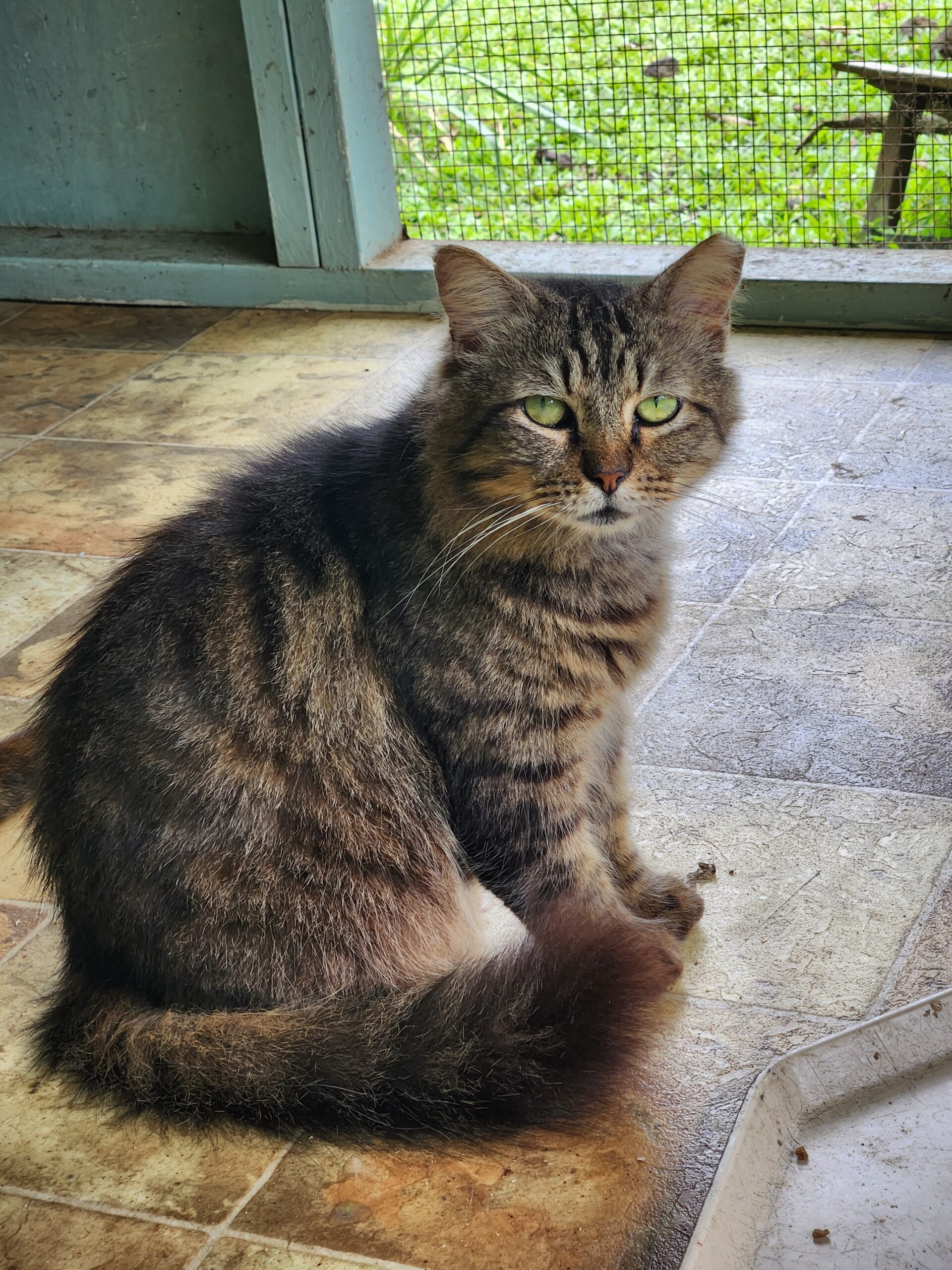 Hi! My name is Mineoloa.
I'm another one of those FIV/FeLV cats living in Miracle House waiting for the most wonderful person to come into my life to whisk me off my feet and take me home! I have sad eyes but a very cute face. I'm friendly and will greet you at the door when you come home!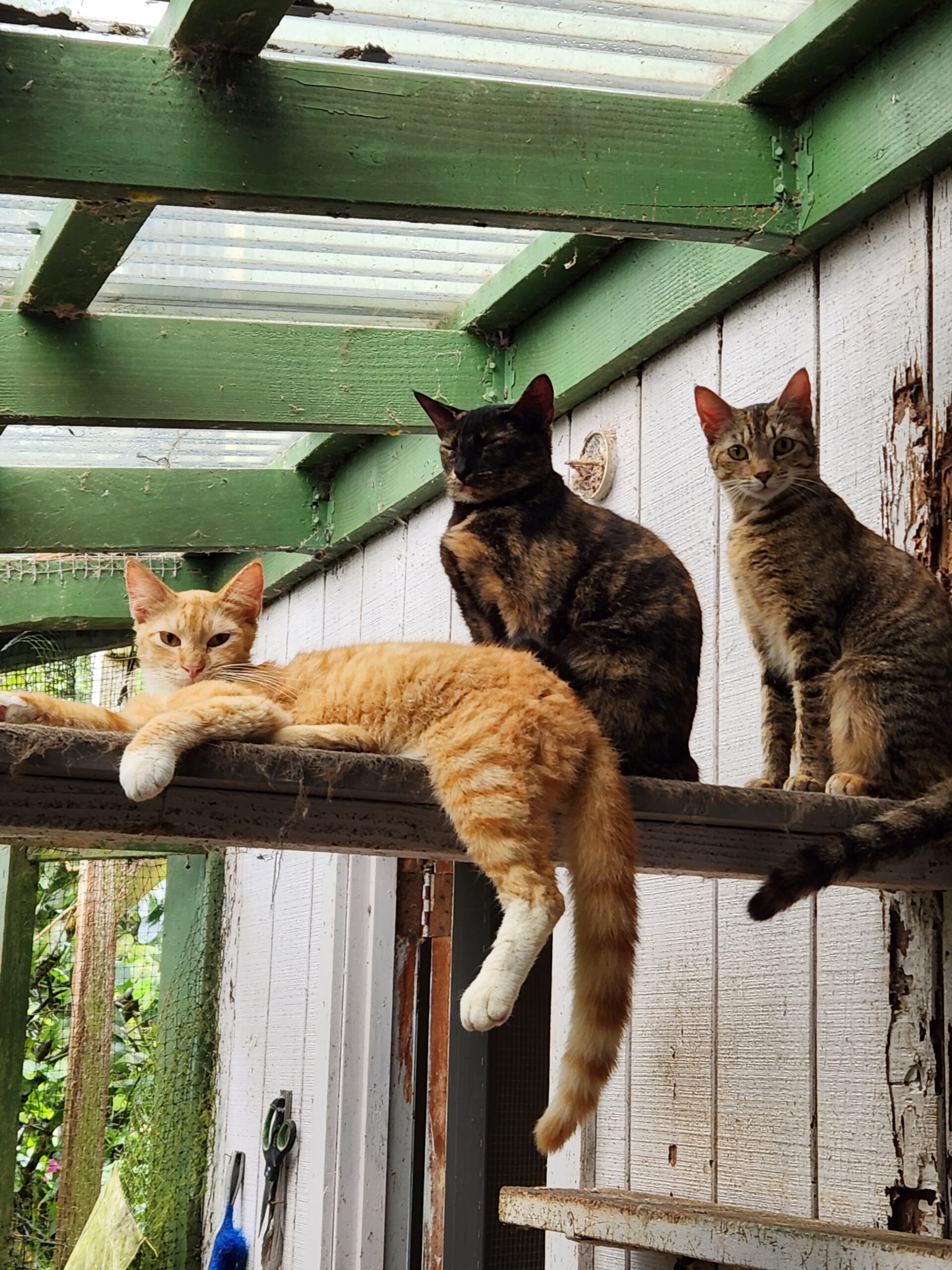 These cat buddies are working cats that hang out in the rafters of the building and come down for treats and occasionally will let a human pet them. They would be great as outdoor barn cats to keep your mouse population at bay.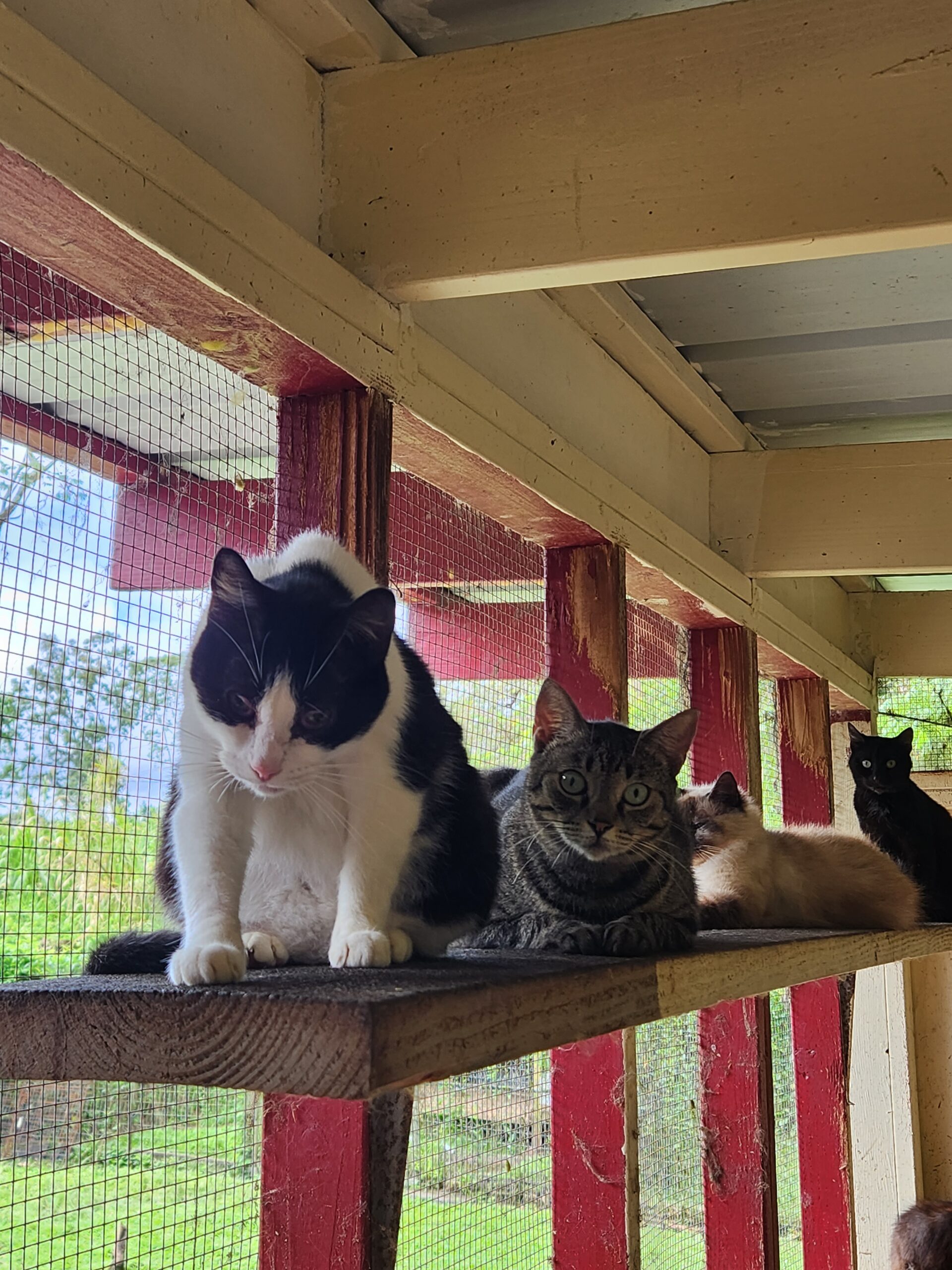 Many of our cats are working cats, mousers, barn cats, available to help you with outside chores.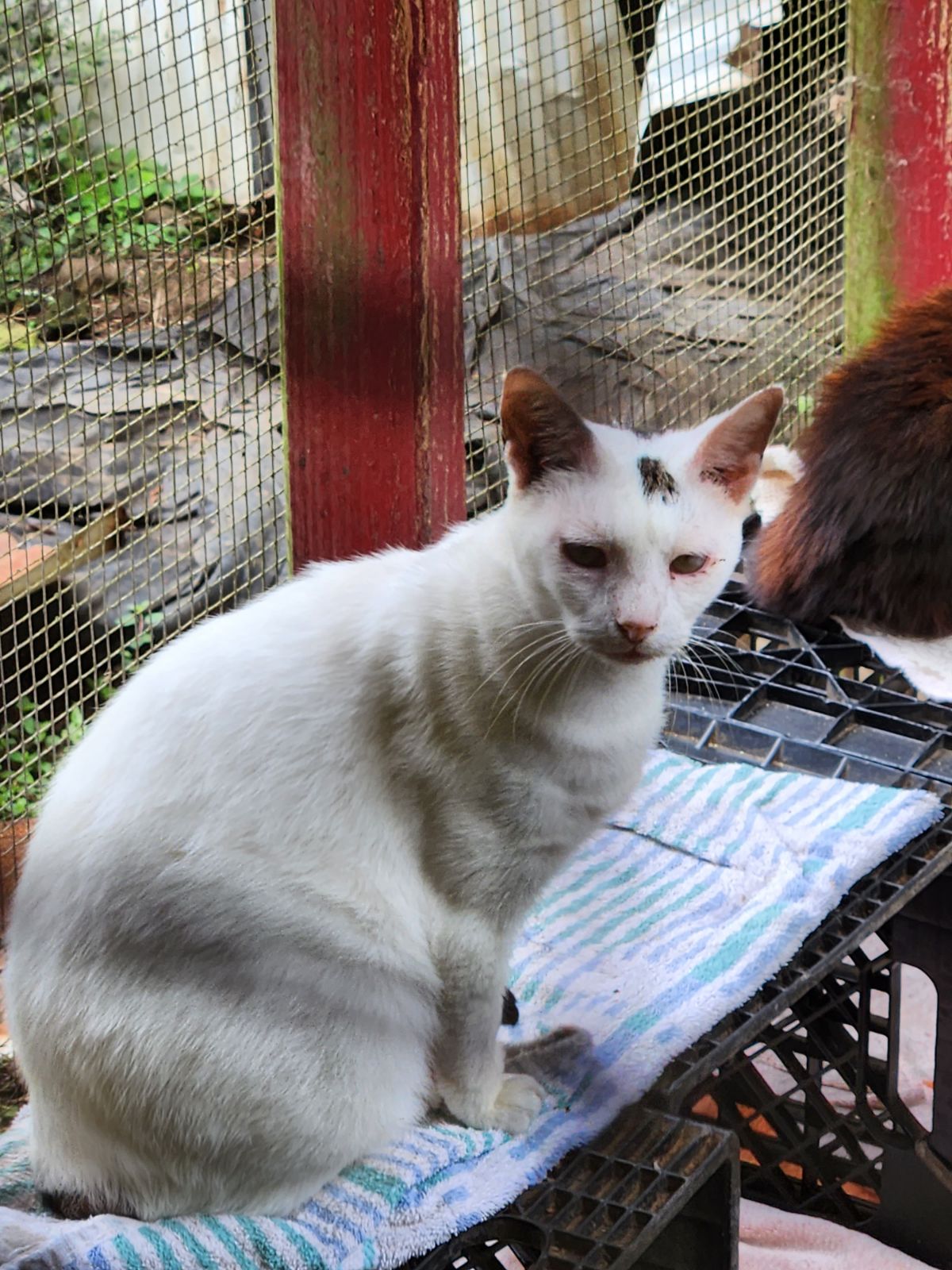 Hercules is a wonderful cat. He is about 9 or 10 years old, a longtime resident at Rainbow Friends.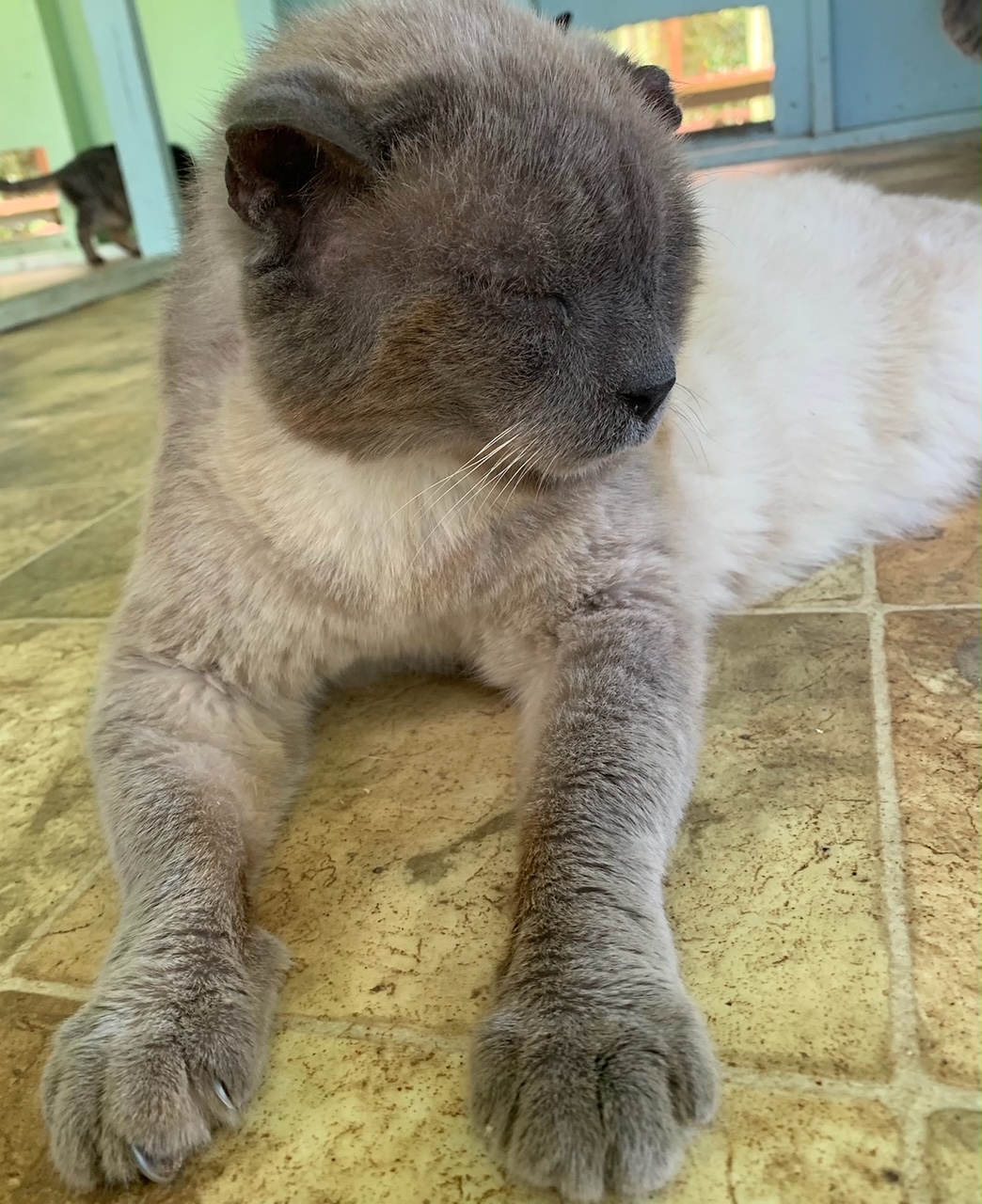 Murray, the cat on the left, is FIV/FeLV Positive. He is completely blind and the most loving cat you'll ever meet. Nothing stops him, he is friends with everyone. Murry needs a lap and love!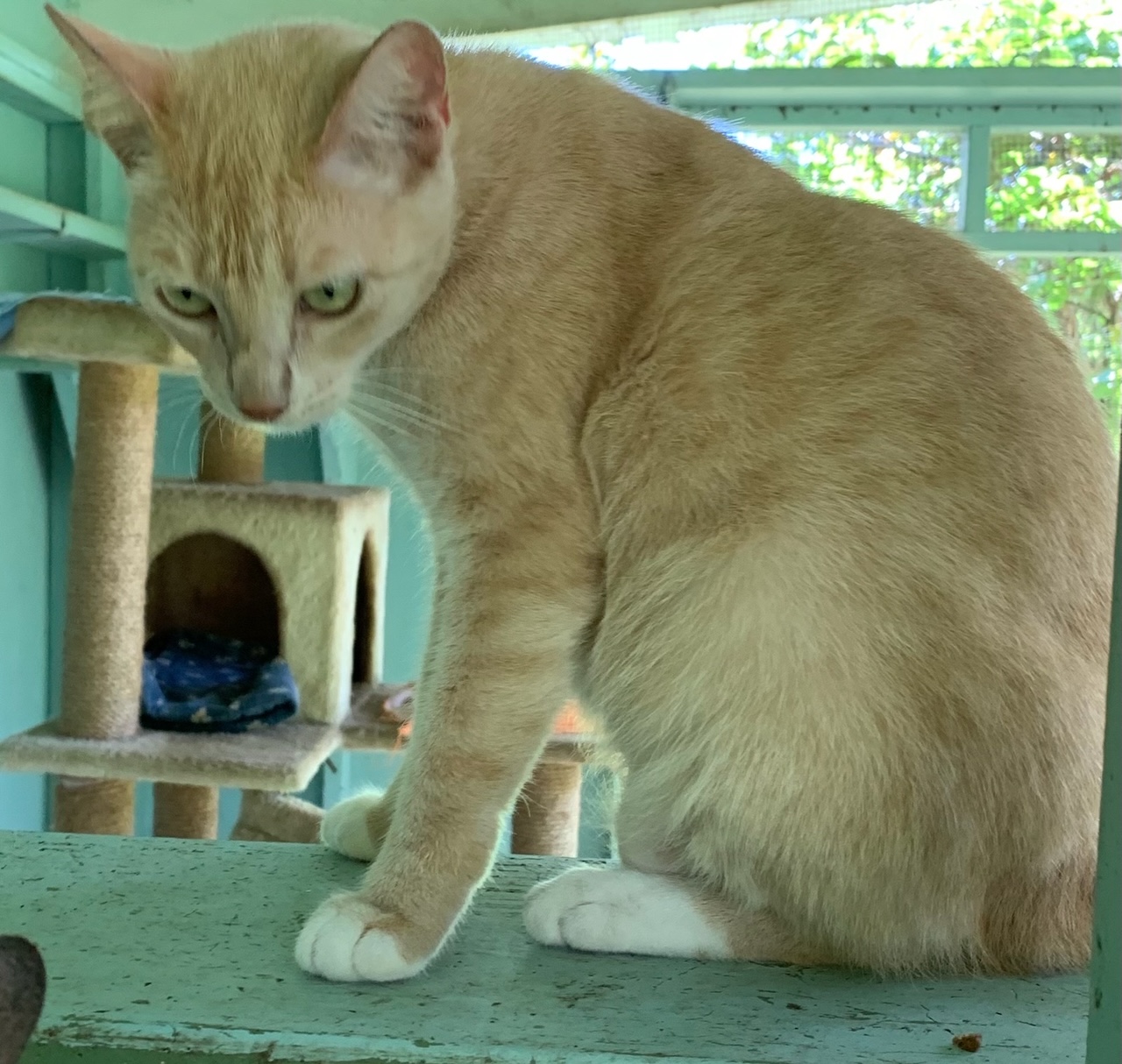 Spencer is FIV/FeLV Positive. He is 2 or 3 years old and friendly from afar.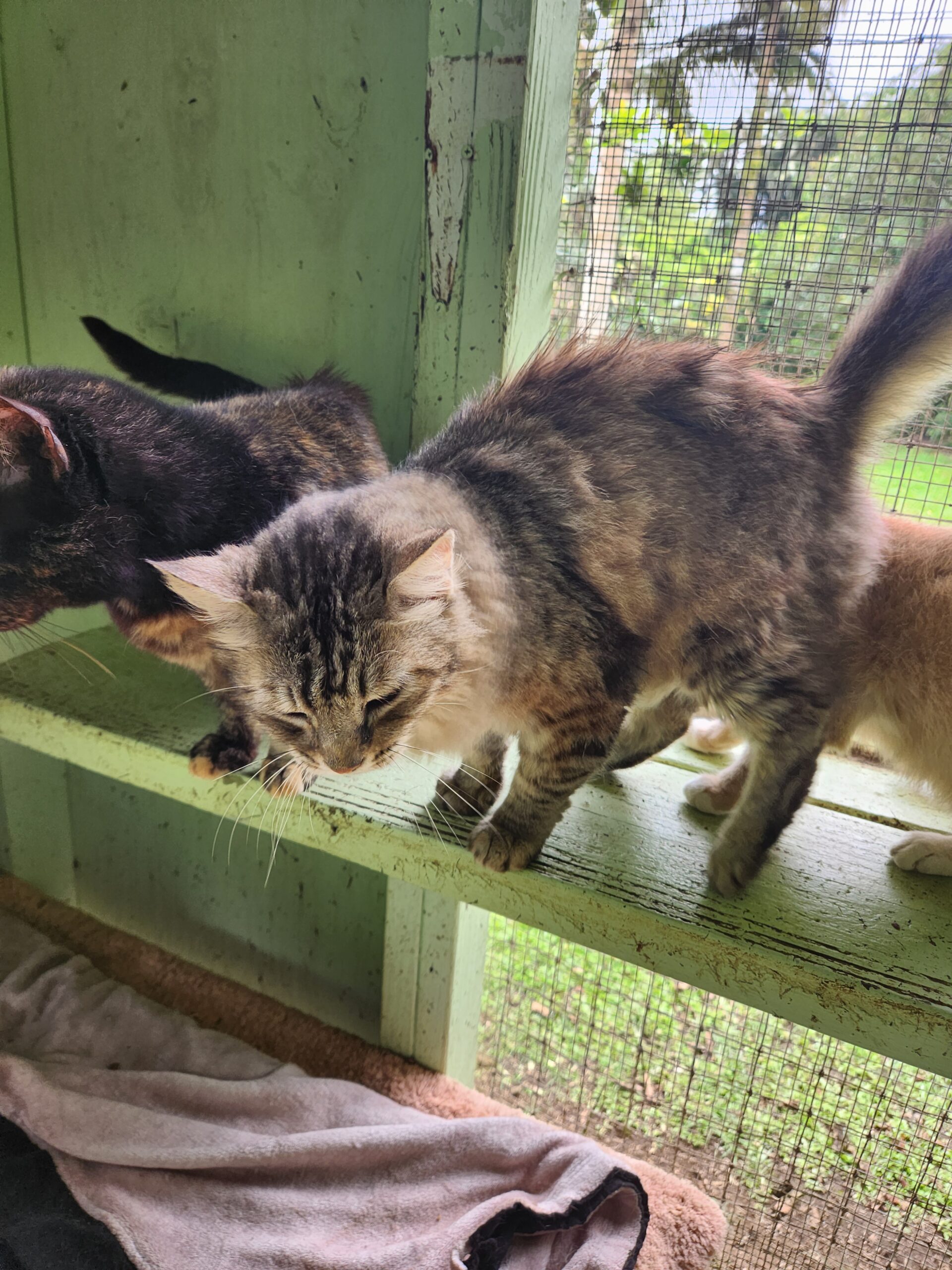 Pepper is a very friendly FIV/FeLV Positive kitty.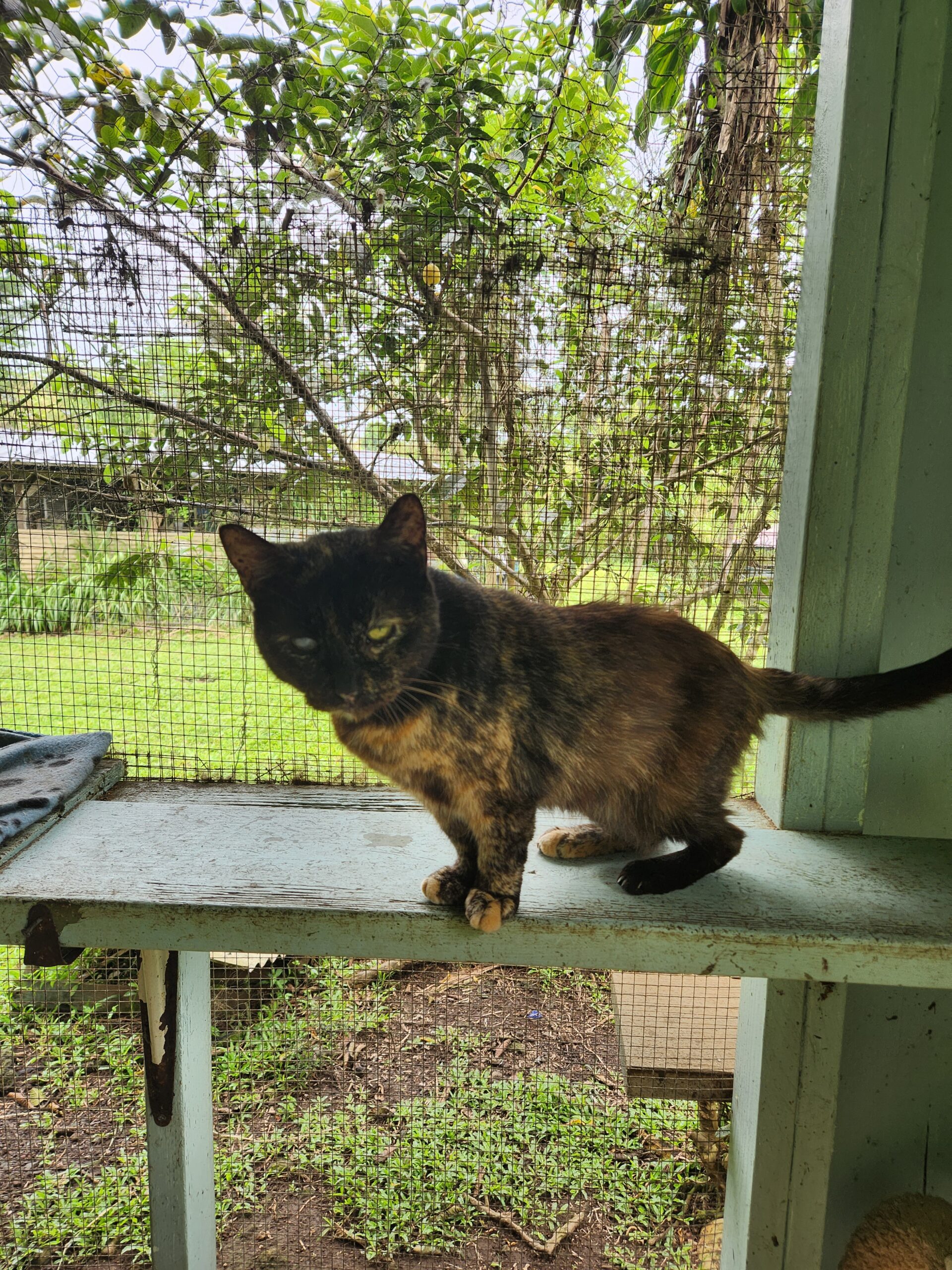 Resi is a halfway friendly FIV/FeLV positive kitty.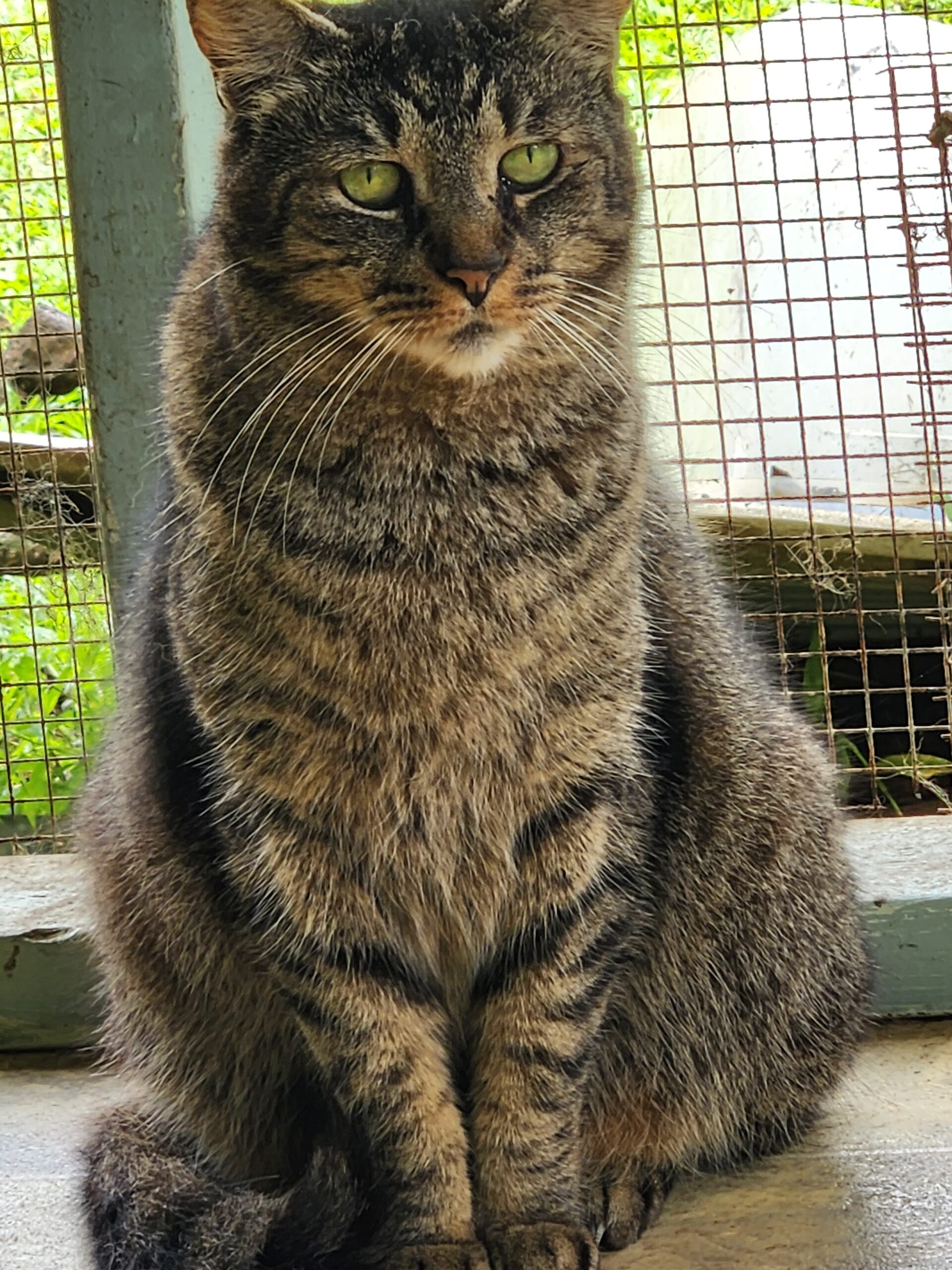 Pompon is a FIV/FeLV Positive friendly tabby.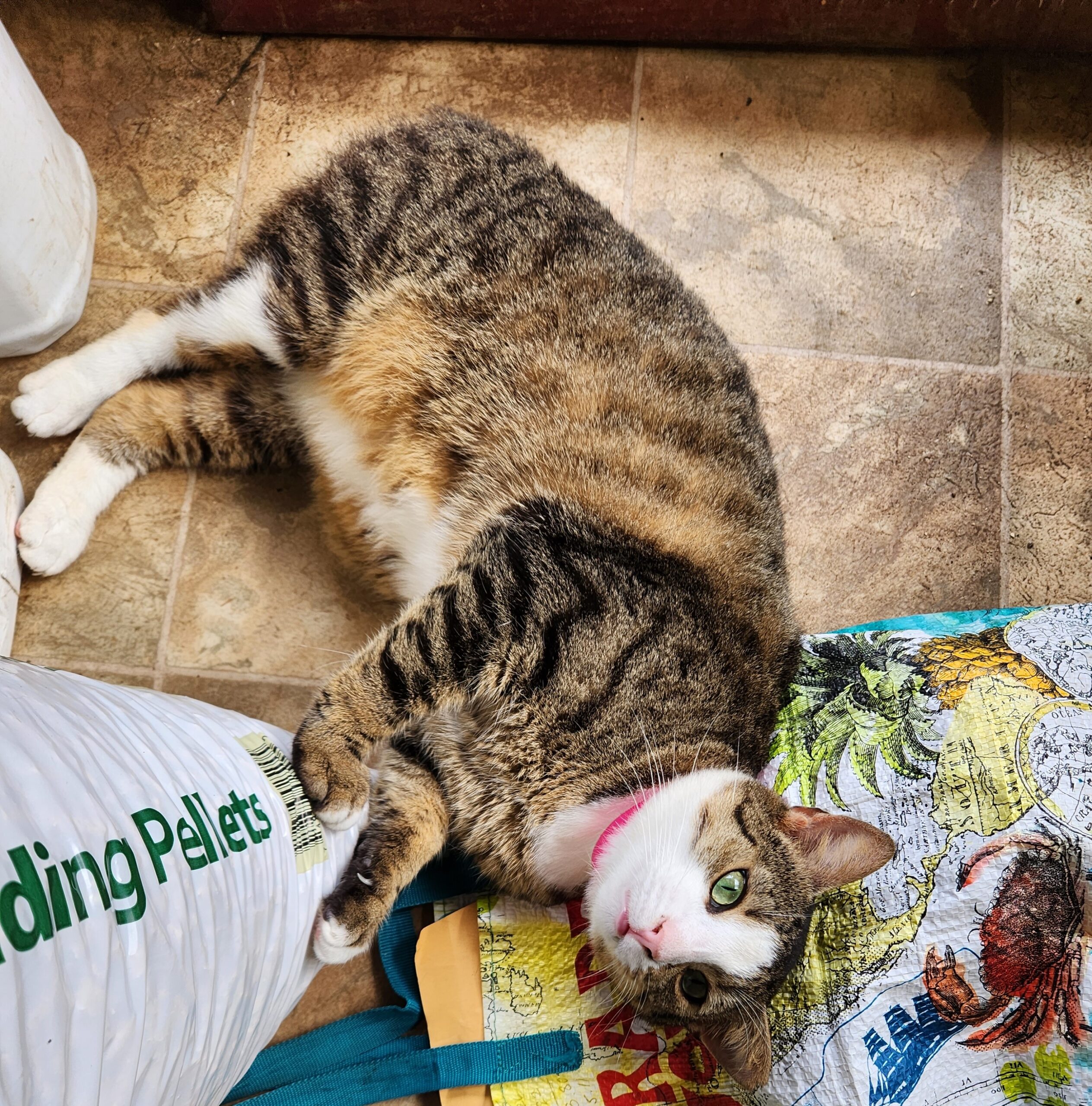 Aloha! My name is Frankie. I am a very friendly boy who craves attention, love and YOU! I am about 5 years old, neutered and cute.
I don't know what happened to me though. One day my person took me to the vet and they cut off half of my tail. I guess it was to help them keep me clean since I have incontinence. Then, they dropped me off at Rainbow Friends! The best place for you to keep me would be outside. Perhaps you have a nice fenced yard? Rainbow Friends would be very happy to lend you a large cage to keep me in for 2 – 3 weeks until I get used to you and my new home. Many people have had incontinent cats and we can work things out to everyone's benefit. Will you be the one?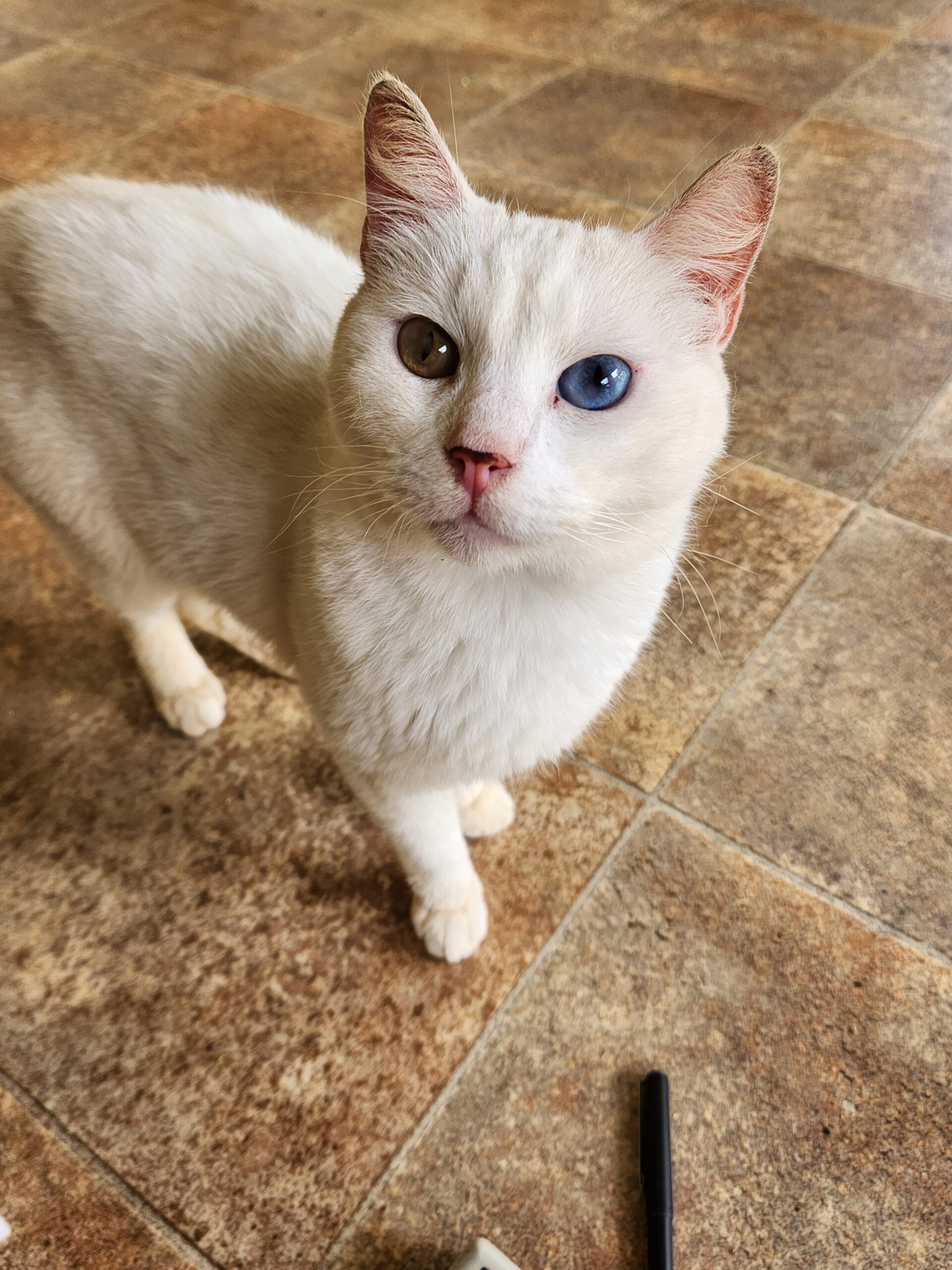 I have beautiful eyes, one green and one blue. I'm a gentleman, who is shy at first with new people, but come around fast, especially if you have treats and then pet me. I don't like to be picked up much, but enjoy your company and loving touches. You can foster me for awhile to see if we are a good match, no strings attached.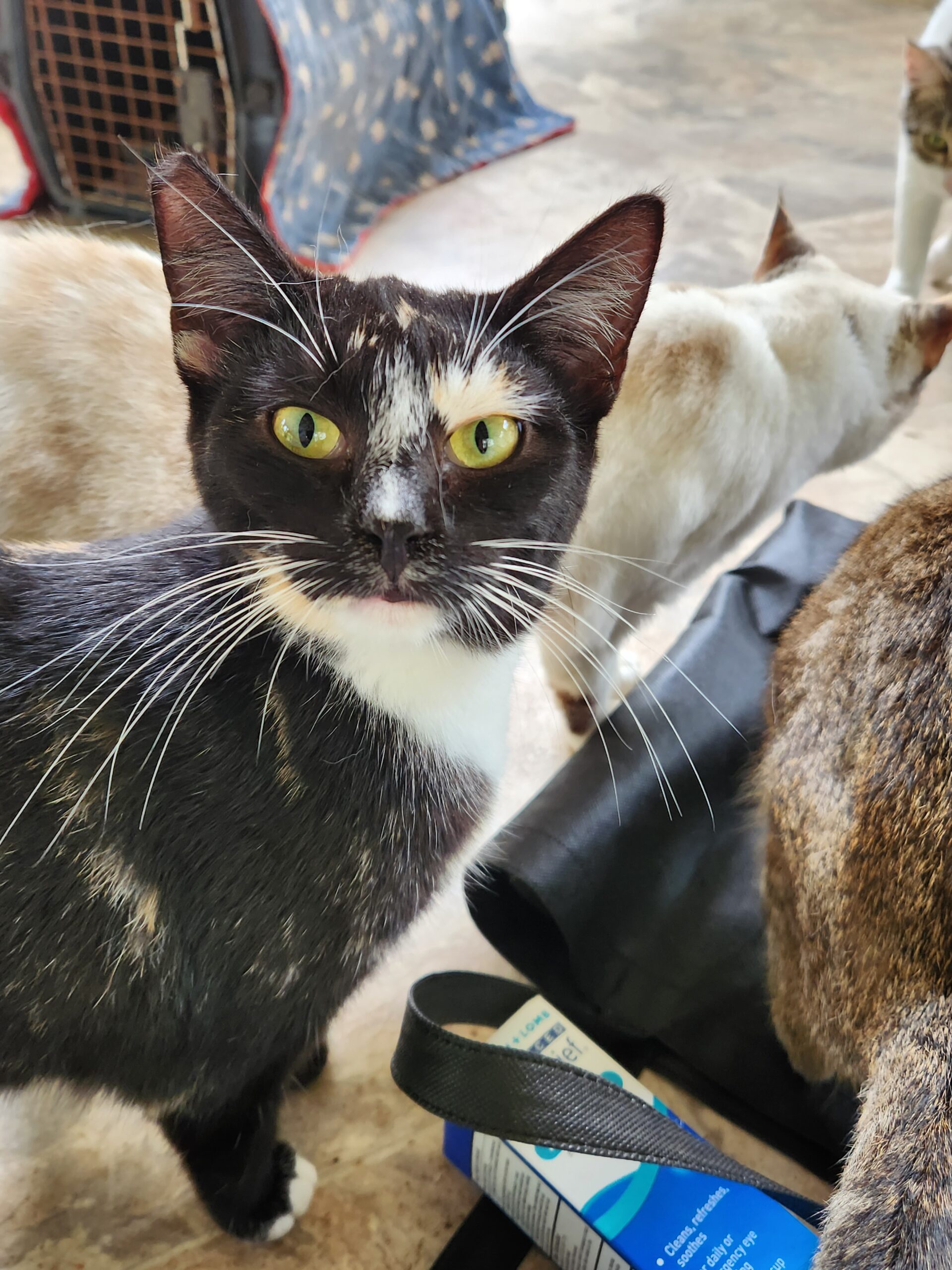 Maili is a very pretty young girl, who came to Rainbow Friends as a very young kitten and wasn't adopted. She is still looking for her forever family home.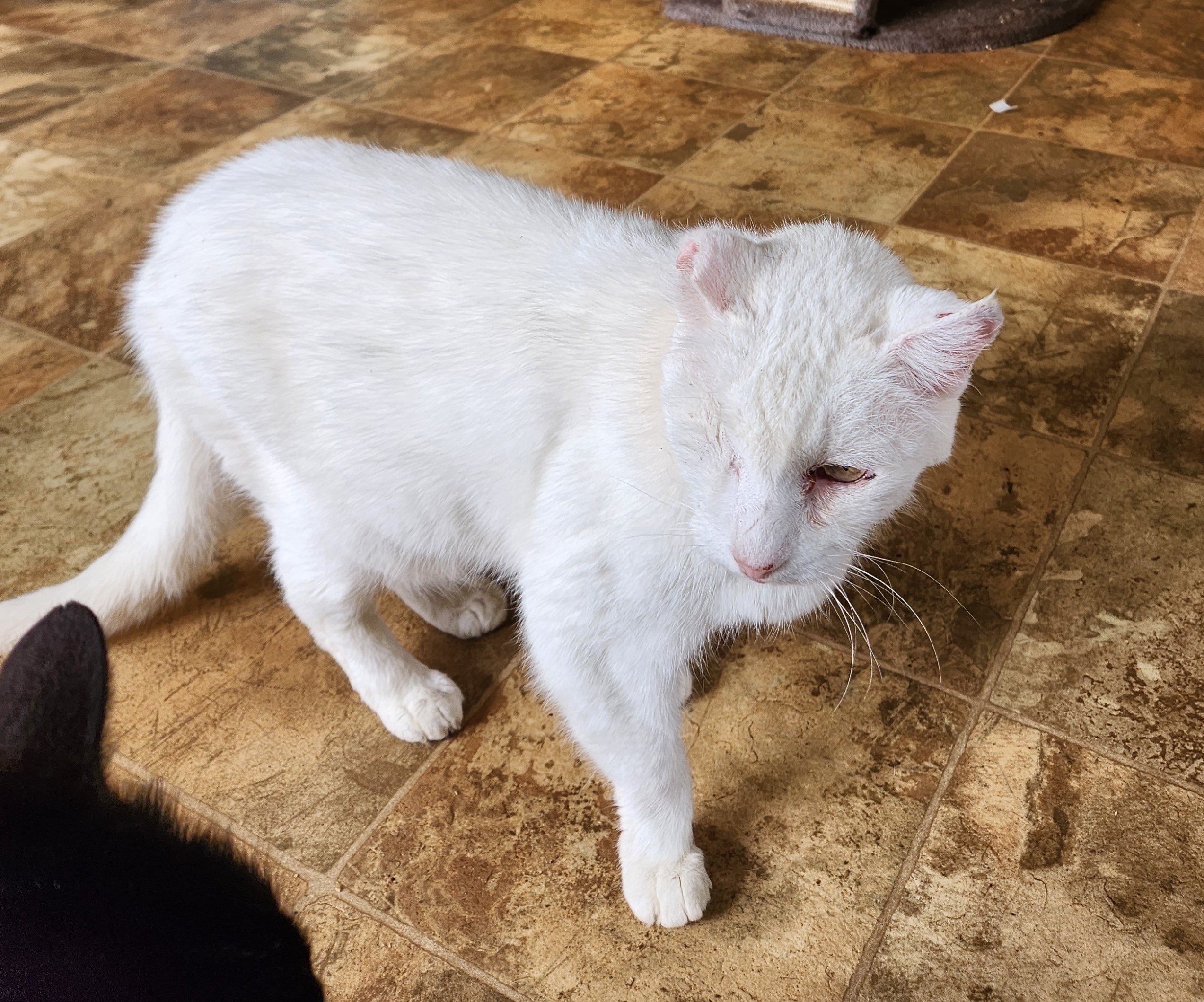 Aloha, my name is Mary. I'm a real love bug. I come sit on anyone's lap who is willing to sit down for a minute in my room. I love visitors and yearn for a tender touch. Cancer took my eye and part of my ear. I need to be an indoor cat because the sun does that to me. Having only one eye does not slow me down at all.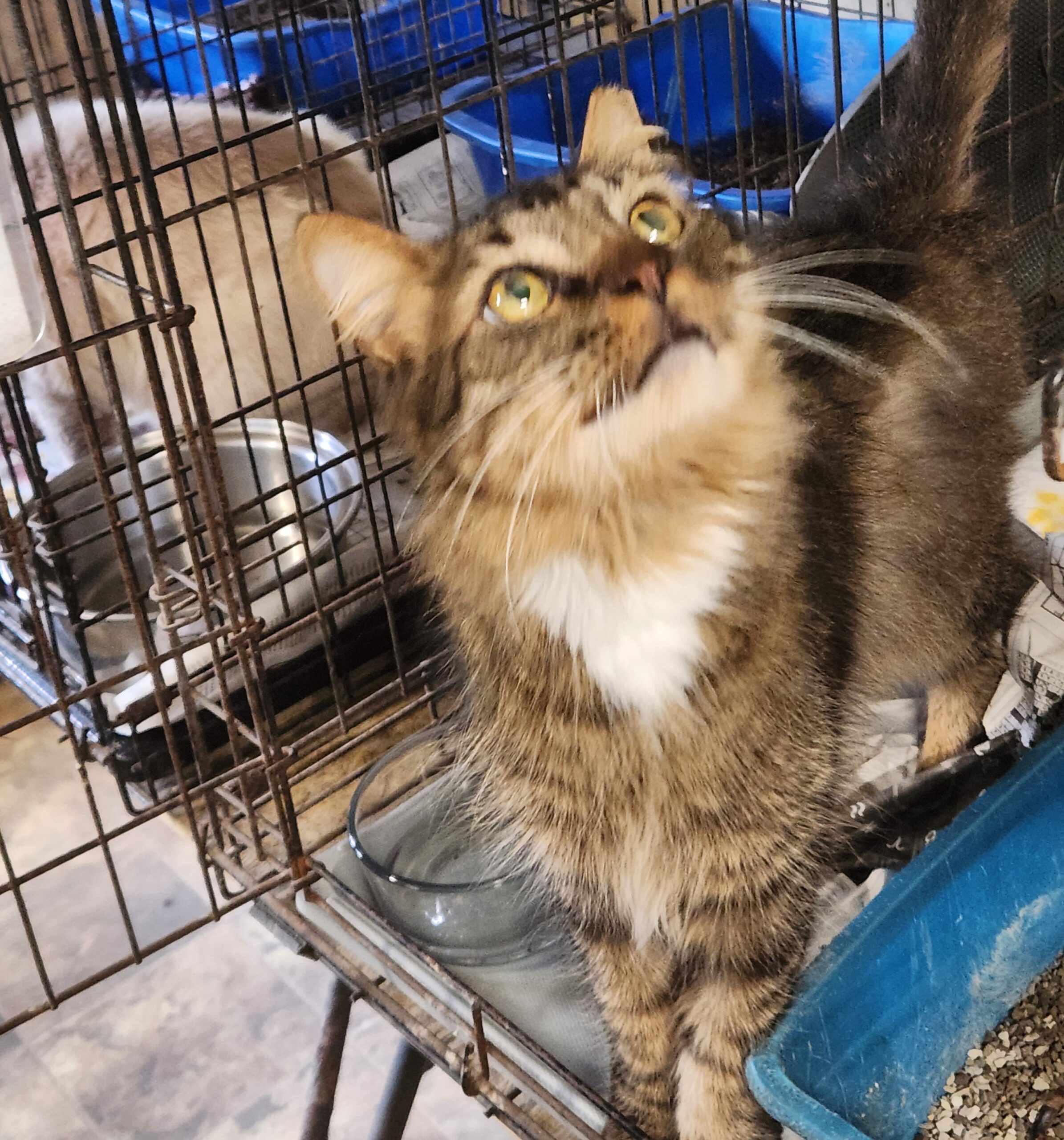 I am an adult medium haired tabby – male/neutered and so friendly! I was found wandering around lost and ended up at Rainbow Friends Animal Sanctuary! Good thing I did too. They have been taking care of me quite nicely but noticed the hair on my flank and abdomen is thinner than other areas. I have no visible skin issues. I think I'm allergic to fleas because my condition has stabilized. If you don't mind feeding me a special skin & coat food with flea treatments, and want to spend some time with a gregarious guy who has thin hair on the sides of his body, then, I'm the one for you!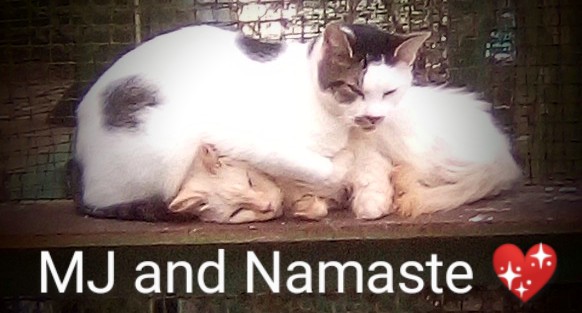 Namaste is the older long-haired cat on the bottom. MJ is his companion and protector.
Must be adopted together.
When Rainbow Friends received a call from a terminal cancer patient caregiver that these cats needed a place to go, they did not hesitate to pick up these beautiful animals. Now, it is time for them to find another forever home. Namaste is older and needs tender, loving care (no medications at this time) and a soft bed in his twilight years along with MJ at his side. MJ is a quite a charmer and is open to love and attention on his own. He dotes on Namaste and you find them together most of the time at the sanctuary. Both use the litter box and have good appetites.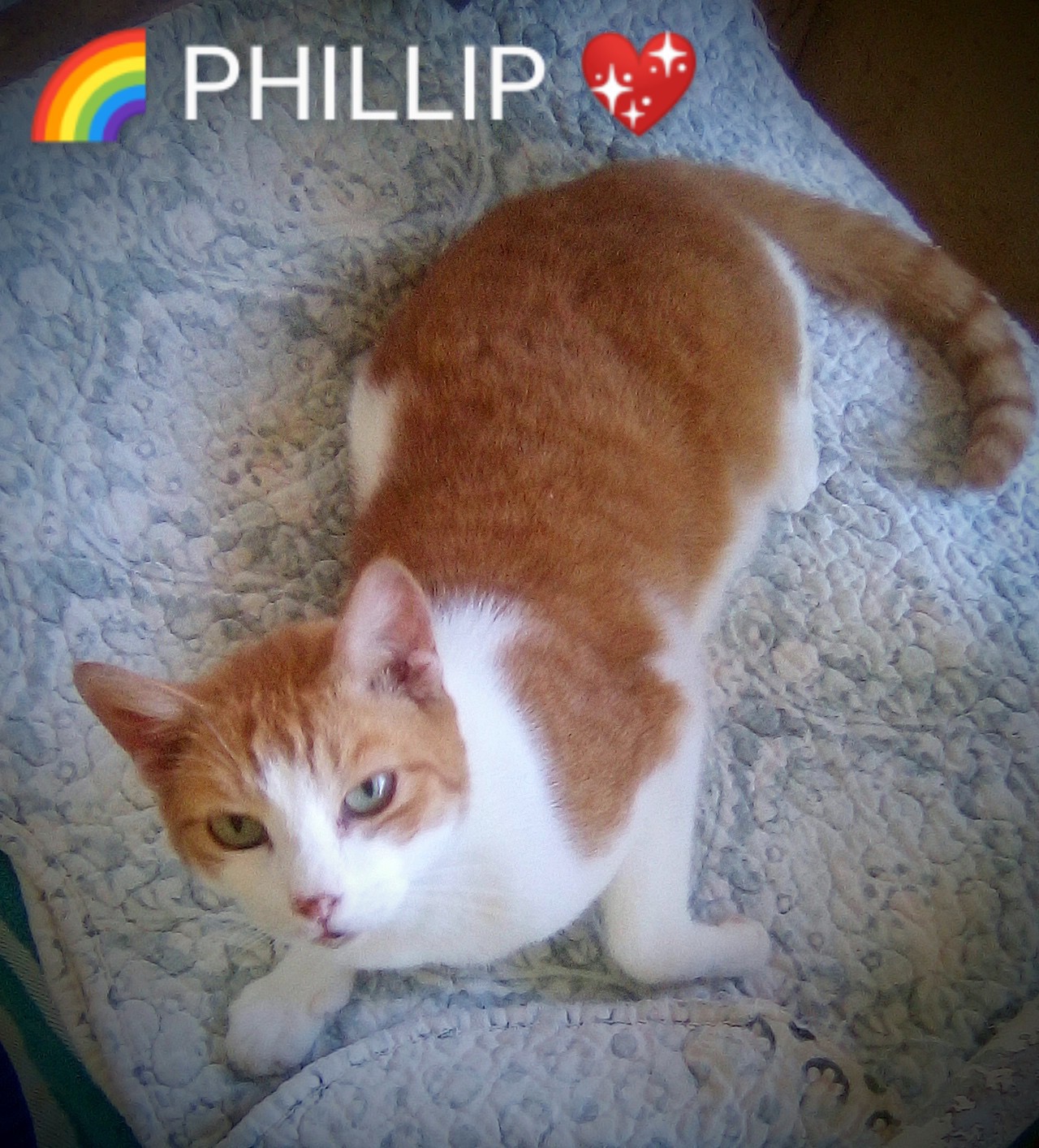 I am a real sweetheart. One leg was removed because of an injury when I was younger. I run around as if I have 4 legs though. It's such a riot! I especially like the right side of my body scratched and rubbed because I don't have a leg on that side. They are very handy to have when you have an itch! I'd really like to have a place of my own with people of my own and maybe a cat or two. I have many housemates now and we get along just fine.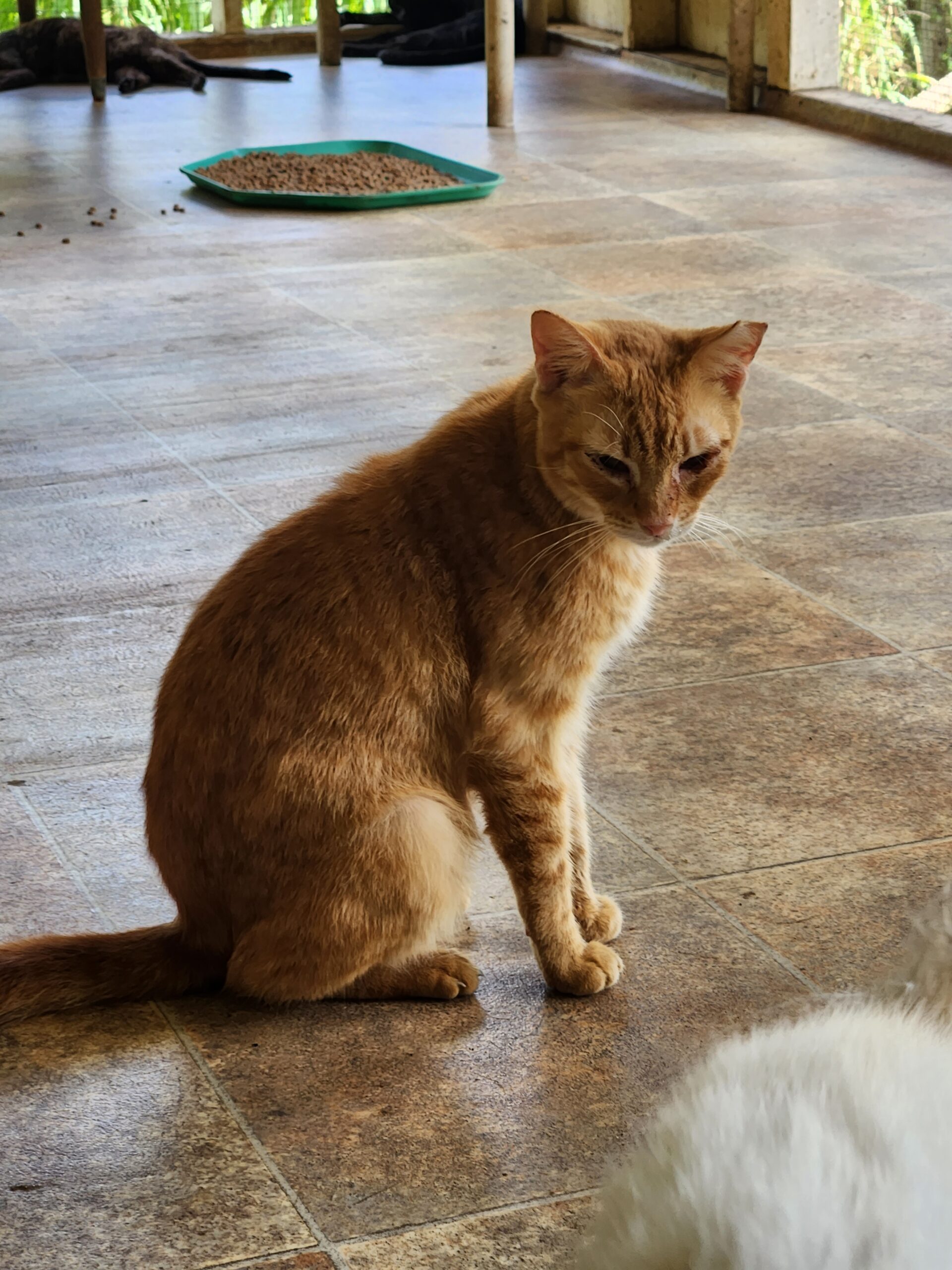 Robert is a very friendly 10 year old boy.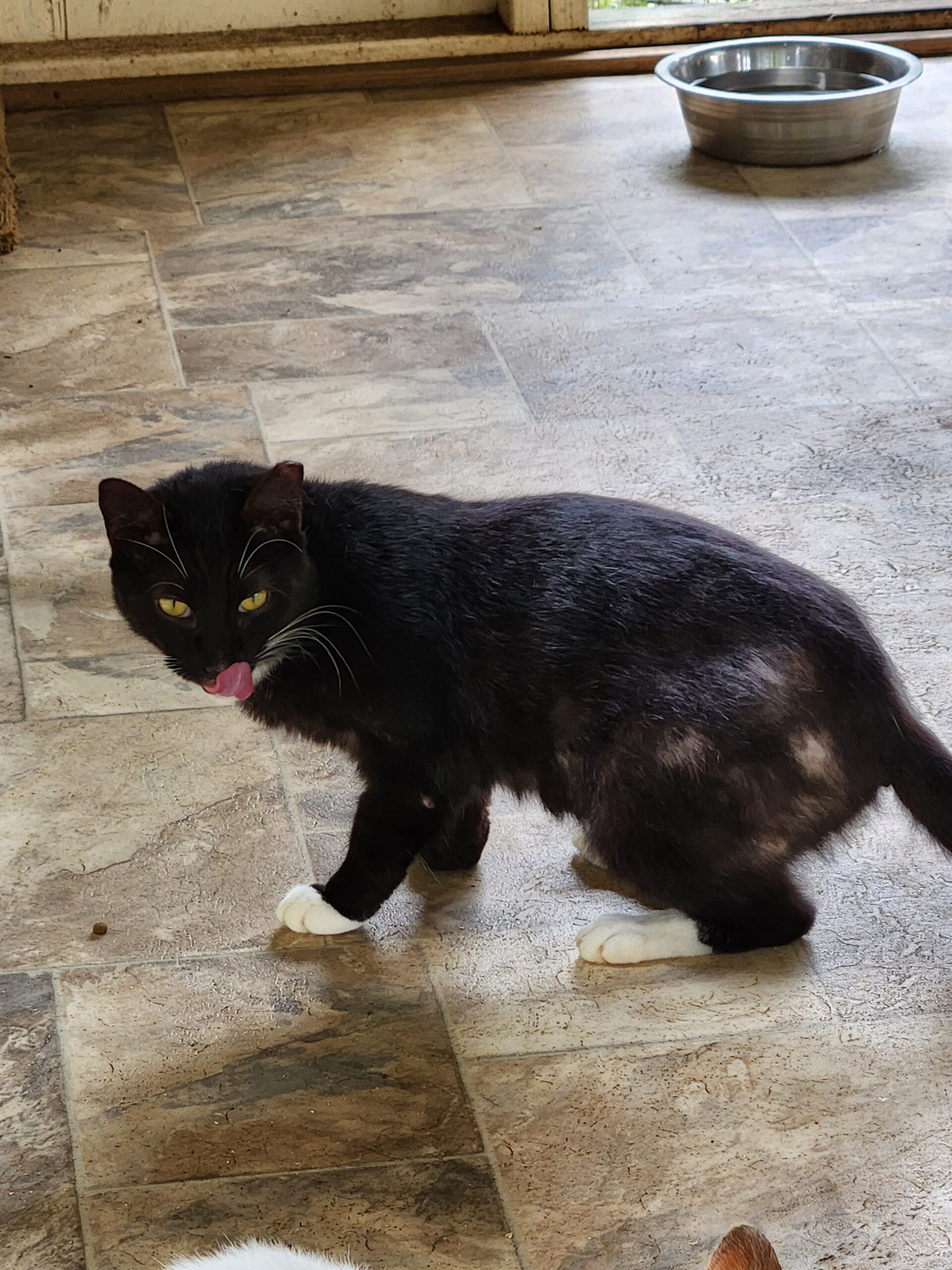 Hi I'm a beautiful Tuxedo who lives in Maryanne's Cottage at Rainbow Friends. Come visit me.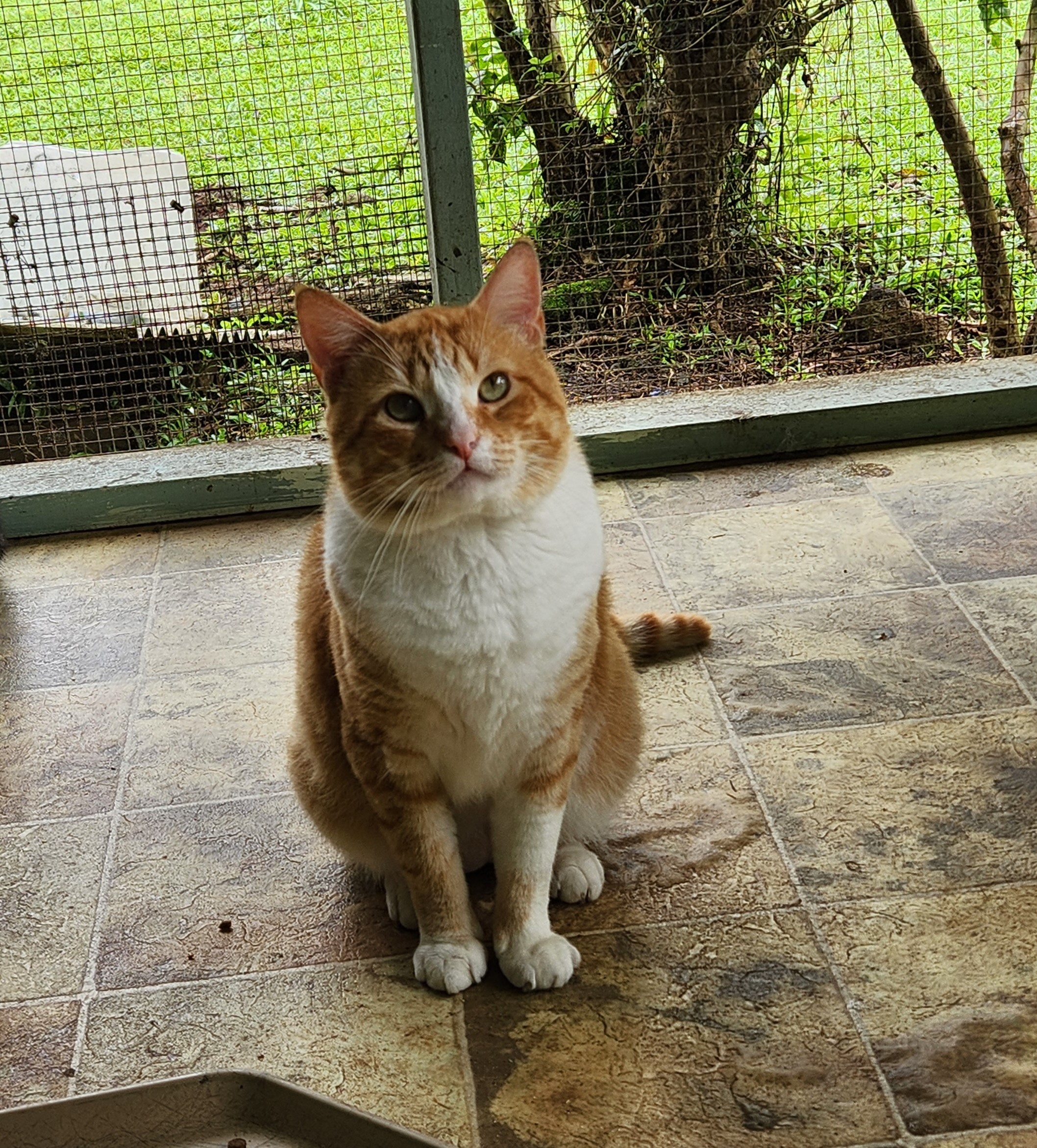 Hi! I'm Morris. I currently reside in Miracle House at Rainbow Friends Animal Sanctuary with 14 other cats with FIV (feline immunodeficiency virus) or FeLV (feline leukemia virus). These viruses break down my immune system. They DO NOT infect humans or other animals, only cats. I should live indoors with other cats only if they, too, have the virus. Regular veterinary examinations and health care will keep me healthy. Reducing stress in my environment and providing nutritious food and fresh water will also help.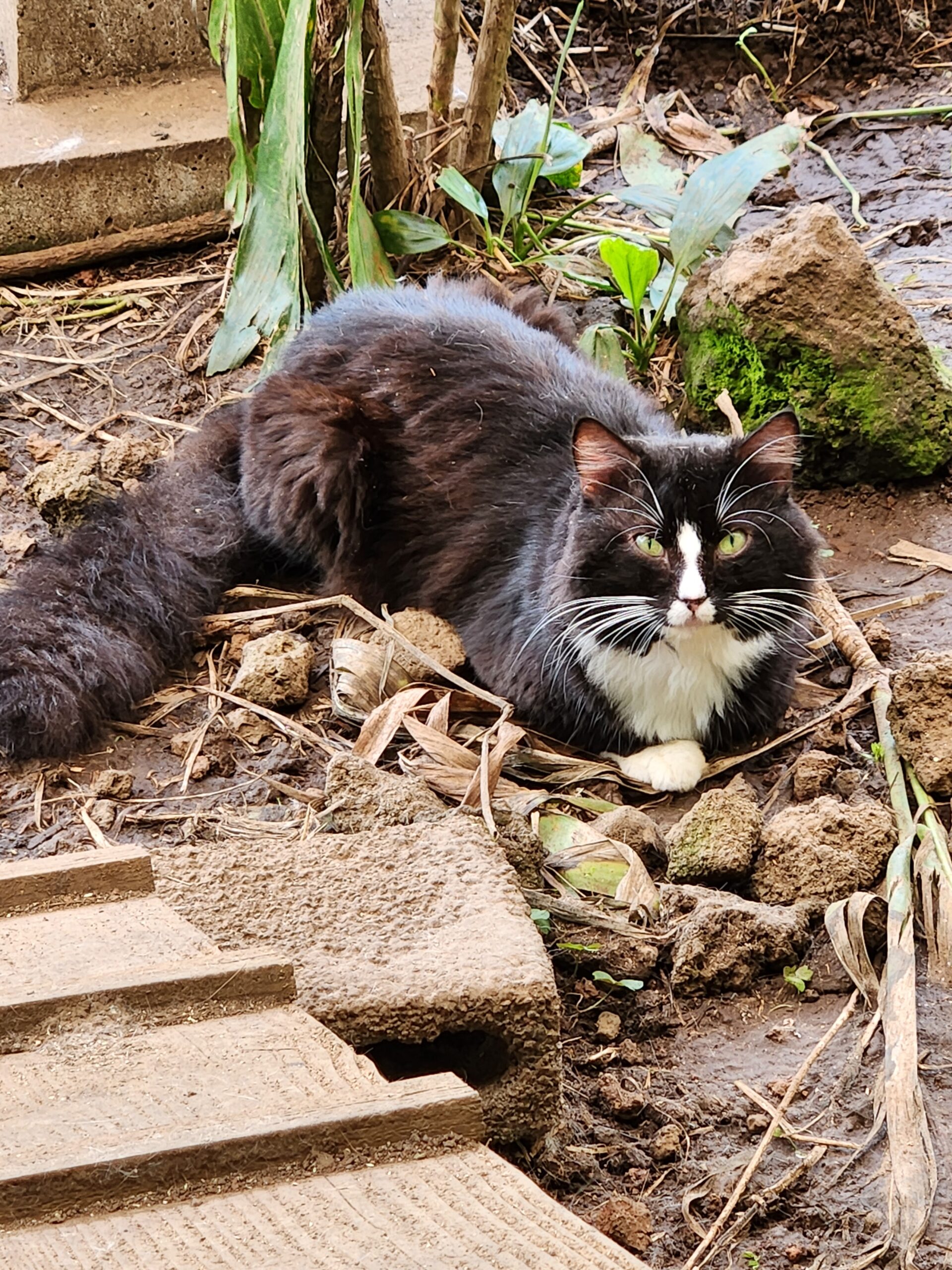 Tux is a beautiful working cat that would love to live outside to help you with your mouse or rat issues.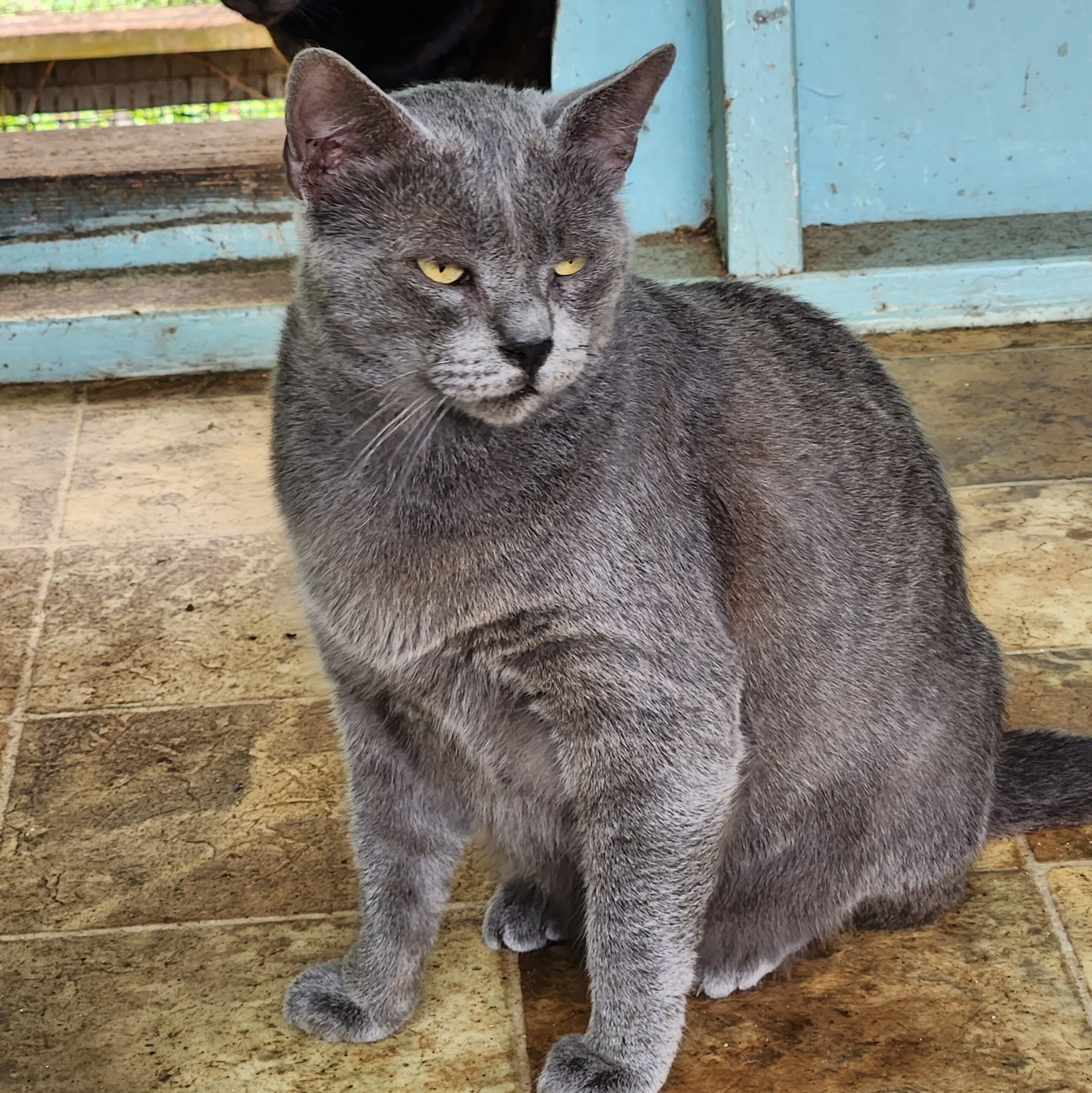 Hi! I'm Stuart. I am FIV/FeLV Positive. I am a handsome feline with a great stare. I am a little shy with you at first but give me chance, a few treats and I will warm up to you in my time. I would love to have a human to follow around who I could call my own. I should be kept indoors but enjoy my very own window on the world.